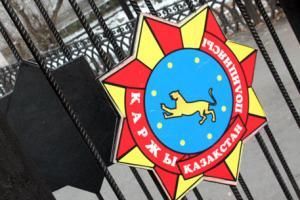 Credit:vesti.kz
Ex-governor of Atyrau Oblast Bergei Ryskaliyev, after whose dismissal in the region the criminal cases have been initiated on the facts of embezzlement, hasn't been put on the wanted list, reported on Friday Andrey Lukin, the vice-chairman of RoK Agency on Combat against Economic and Corruption Crimes (financial police).
Ryskaliyev left the position of Atyrau Oblast governor in August 2012. Currently the financial police are investigating 13 criminal cases initiated on the facts of corruption crimes committed by officials of Atyrau Oblast and contractor companies, inflicting the damage to the state for a total amount of over 16 bn tenge. A number of heads of the local government administration have been arrested.
"We have only Amanzhan Ryskali (Bergey Ryskaliyev's brother), an ex-deputy of Mazhilis on the wanted list. His arrest has been sanctioned", said Lukin, answering the questions of the journalists as to whether Bergei Ryskaliyev was wanted.
"I am not authorized to provide you more exhaustive information due to the interests of investigation. The due actions are taken. Bergei Ryskaliyev hasn't been summoned for questioning," he explained.
The criminal case against Amanzhan Ryskali has been initiated at the end of September on the fact of fraudulent misappropriation of the property right for nine apartments in the block built in Atyrau by AB-Group LLP. As the result, the construction company incurred the loss in the amount of 200 mln tenge. On October 1, Amanzhan Ryskali has been accused in absentia and the court sanctioned his arrest.
Ryskali is hiding from the preliminary investigation bodies and his location is unknown. Ex-deputy is charged with secret accusation under article 177, part 3 (item "b") of RoK Criminal Code - "Fraud".
Amanzhan Ryskali voluntary vacated the seat of the deputy of Mazhilis from Ak Zhol party in September 2012 after his brother - ex-akim of Atyrau Oblast Bergei Ryskaliyev – became the person involved in criminal case on an abuse of authorities by the officials of Atyrau government administration during adopting the decisions on privatization of objects of municipal property and their undervalued transactions.
Source: Kazakhstan - News Agency
October 5 2012, 17:47