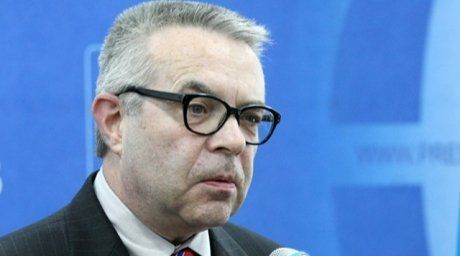 Former U.S. Ambassador to Kazakhstan Richard Hoagland. Courtesy tengrinews.kz
At the time, former U.S. Ambassador to Kazakhstan Richard Hoagland sent a letter to Kazakhstan Healthcare Minister Salidat Kairbekova insistently recommending her to continue the methadone program in the country, President of the National Medical Association Aizhan Sadykov told Megapolis.

"When Salidat Kairbekova was appointed the Healthcare Minister, the U.S. Ambassador Richard Hoagland sent her a letter where he clearly stated that provision of grants from the Global Fund will be challenged if Kazakhstan discontinues the methadone program," Sadykova said.

According to her, methadone has a more an even graver effect on human health than heroin. Heroin withdrawal syndrome lasts for 7 days, whereas the one of methadone lasts for 40 days, Sadykova stressed.

"But methadone's effect on the mind is the worst thing here. Methadone provokes irreversible changes in the nervous system, to the extent of a complete degradation of personality, much stronger and faster than heroin.

"There was a case when methadone was not delivered on time to Temirtau town (near Karaganda), and the aggression of the addicts was so strong that doctors were barely managing to keep the situation under control," she said.

The U.S. sponsored methadone promotion plan involves creation of methadon distribution points in every rehab and hospital, in NGOs, AIDS centers, TBC dispensaries and jails by 2014, Sadykova said.

"The Global Fund's OST (opioid substitution therapy) program will finish in 2014. After that our country will have to buy this drug at its own cost. The calculations raise some concerns as well. Kazakhstan spends $5 per day per one methadone users, while the neighboring Kyrgyzstan spends only $1," she said. The National Medical Association started talking about closing the pilot project of methadone promotion in 2011, Sadykova noted.

"Back then it was discovered that methadone is promoted in violation of the country's legislation, as according to the International Convention, it is banned from use for medical purposes. Despite that, the pilot project on implementation of methadone as the opioid substitution therapy was launched. The decree on expanding of the OST program was issued in 2010," Sadykova said.

There are currently less than 200 people using methadone in Kazakhstan. Russia and Uzbekistan have opted out of methadone OST.
July 23 2013, 16:47