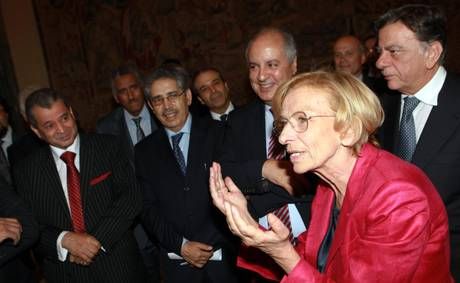 Italian foreign minister Emma Bonino (R)
Italy "is still considering" expelling Kazakhstan's ambassador to Rome over his role in the deportation of a Kazakh dissident's family from Italy, Foreign Minister Emma Bonino said Monday. "My first concern is to not weaken our presence in (the Kazakh capital of) Astana by being reactionary," she added.

Last week Bonino met with Kazakhstan's charge d'affaires Zhanybek Manaliyev to ask for an explanation for the "unusual action" taken by Ambassador Adrian Yelemessov, who dealt exclusively with the interior ministry and not the foreign ministry, as protocol required, in his request to deport Alma Shalabayeva, wife of Kazakh oligarch and political opposition figure Mukhtar Ablyazov, and their six-year-old daughter, who were apprehended in a nighttime raid by Italian police late in May.

Italian Premier Enrico Letta said the ambassador had behaved in an "unheard-of" way by directly contacting interior ministry officials to pressure them to conduct the raid.
July 22 2013, 15:40