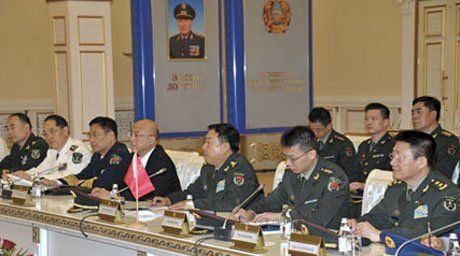 Vice-Chairman of the Central Military Commission of China Fan Changlong has arrived to Astana, Tengrinews.kz reports citing the press-service of Kazakhstan Defense Ministry.

During the visit the official plans to check on Kazakhstan Navy divisions in Aktau. Meanwhile, the high-ranking Chinese official met with Kazakhstan Defense Minister Adilbek Dzhaksybekov.
"I am pleased to note the successful and consistent development of Kazakhstan-Chinese cooperation that is based on good-neighborly friendly relations. The meeting of our presidents during the Boao Asian Forum was of a great importance. Heads of our countries have agreed to continue enhancing and expanding the interaction between Kazakhstan and China in all directions, including military-technical cooperation," Dzhaksybekov said at the meeting.

According to the Ministry's press-service, Kazakhstan-Chinese military cooperation is developing quite dynamically. Joint organization of the anti-terrorist training called Peaceful Mission for SCO member-countries scheduled for 2014 at the territory of China is a practical example of the close interaction between the Armed Forces of the two countries.

Dzhaksybekov told the guest about the talks with Chinese Defense Minister Chang Wanquan held in June 2013 in Bishkek. He noted that the parties discussed development of the bilateral interaction in defense between the countries. An agreement was reached to expand military-technical cooperation and military education partnership.

Fan Changlong said that China's relationships with Kazakhstan's Armed Forces were developing actively and assured that the military cooperation between the two countries would always comply with mutual interests of Kazakhstan and China.

Kazakhstan Defense Minister congratulated the guest on the coming Day of Establishment of the People's Liberation Army in China and wished him success in enhancement of the country's defense capacities.

A memorandum of intentions aimed at enhancement of the military cooperation between the Armed Forces of Kazakhstan and China was signed between the ranking defense officials.
July 19 2013, 16:00