By Laura Suleimenova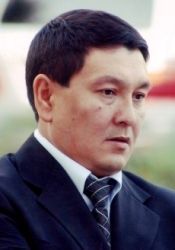 July 16, late evening, businessman Askar Kulov was wounded in leg by an unknown person steps from his home door in Atyrau.
Sources say a surveillance camera has fixed the incident, however the face of the attacker can't be seen due to blackout conditions.
On the video the abuser makes a gunshot in the man's leg and hits head with a pistol grip.
The feature of the crime leads to a conclusion that someone wanted to terrify Mr Kulov, not to murder.
Possible reason for intimidation could be the victim's business closely linked to ANPZ - the Atyrau refinery.
At one time, Mr Kulov had a long time cooperation with then ANPZ CEO Talgat Baitaziyev, directing a security firm in contract with the plant.
He is also the president of the provincial Greco-Roman wrestling federation.

At the moment Mr Baitaziyev is the director of Batumi Industrial Holdings Ltd, a 100% subsidiary of KazTransOil JSC responsible for the Batumi oil terminal and the port of Batumi in Georgia.

Lately ANPZ has been pulling much attention of law enforcement agencies.
Year to date, financial police has launched 16 probes into illegal oil transaction facts, particularly, in relation to managers of Great Han Balyk, Mega Oil Product, Hankeldi and Petpoline companies, suspected of delivering crude to the refinery under forged documents.
More than 9,000 tons of illegal oil worth 1 billion tenge have been confiscated over the course of investigation.


July 17 2013, 17:28