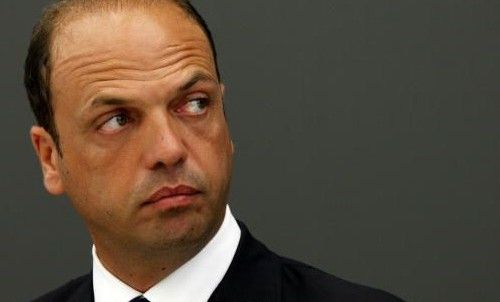 A leading Italian newspaper on Monday urged the deputy of head of Italy's fragile ruling coalition to resign over the expulsion of the wife and daughter of dissident Kazakh oligarch Mukhtar Ablyazov.

Interior Minister Angelino Alfano, who also serves as deputy premier, was not told of the operation in which Ablyazov's wife Anna Shalabayeva and their 6-year-old daughter Alua were expelled in May, the government said in a statement on Friday.

It said it had now withdrawn the deportation order.

The incident has added to the headaches facing Prime Minister Enrico Letta, who was already struggling to contain coalition tensions between Alfano's centre-right People of Freedom (PDL) and his own centre-left Democratic Party (PD).

Italian newspapers reported that at least four senior officials, including Alfano's own chief of staff could be sacked over the incident, and La Repubblica called for Alfano, a key lieutenant of centre-right leader Silvio Berlusconi, to go.

"A minister who doesn't know about an operation of this kind and is not in control of the police is both responsible for everything and good for nothing: He should resign," the left-leaning newspaper said in a front-page editorial.

Economic interests

Members of Alfano's People of Freedom party rejected the demand, saying La Repubblica was trying to bring down the government only months after the deadlocked national election in February which forced the creation of the uneasy coalition.

The PD, wary about exacerbating problems for Letta, has been more circumspect but Dario Nardelli, a senior deputy, said "it is in Alfano's interest to clear up this situation".

Italy has major economic interests in Kazakhstan, including energy group Eni's stake in the giant Kashagan oil field. The case has also highlighted the close relations between Berlusconi's former government, in which Alfano served as justice minister, and Kazakh President Nursultan Nazarbayev, who has ruled the oil-rich state for 17 years.

On Monday, Berlusconi, whose own legal problems have stoked coalition tensions, denied a report in the Unione Sarda newspaper that he had met Nazarbayev in Sardinia to discuss the case on 6 July, while the Kazakh leader was on holiday.

Letta has pledged to continue investigations into the deportation of Shalabayeva, who was hustled onto a private plane to Kazakhstan despite having a valid Latvian residence permit enabling her to stay in the European Union.

Ablyazov, a banker and ex-energy minister turned bitter critic of Nazarbayev, fled Kazakhstan after his bank BTA was declared insolvent and nationalised in 2009.

'Hostage' of the government

He was not present when Italian police raided the couple's Rome villa on 29 May and has accused the Kazakh government of "kidnapping" his family.

In an interview with La Repubblica on Monday, his eldest daughter Madina said her mother had been made a "hostage" of the government, which has been severely criticised for its treatment of political opponents by groups including Human Rights Watch and Amnesty International.

"The possibilities open to my father's enemies are unlimited as this extraordinary expulsion proves once again," she said.

The Italian government has asked Kazakhstan to safeguard Shalabayeva's rights but Kazakh authorities say she will not be able to leave pending an investigation into allegations she illegally obtained passports for relatives of Ablyazov.
July 16 2013, 16:17