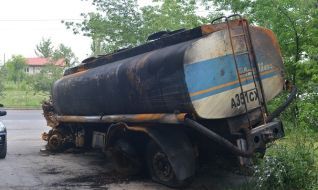 Director of Helios Konstantin Sviridov told Tengrinews.kz about the criteria for disposal of petrol tank trucks in the company.

According to him, the truck's useful life expires after 8-9 years of work. The Chinese truck that flared in Almaty on June 27 was manufactured in 2004.

"We do not use vehicles after their mileage goes over 350 thousand km. But these Chinese trucks have European engines that can be used until the mileage reaches 1 million km. So, we are using them only during 30 percent of their lifetime and then discard them. The burnt truck's mileage was at around 300 thousand km," Sviridov said.

Answering the journalists' question whether the truck should have been discarded by the company he said: "Yes. As you can see it was manufactured in 2004. That's why I have showed you the 21 new vehicles. We are updating the fleet gradually. The fleet is getting old and we need to renew it annually."

However, he stressed, there are special regulations for discarding the vehicles. Technical checks is one of them. The burnt truck was checked on June 4, 2013. Besides, according to Sviridov, a mechanic checks the car every time before it departs from the base. The routine check was done on the day of the accident as well.

The company has the total of 270 vehicles around Kazakhstan, including 53 in Almaty. According to Helios Director, 21 new standard vehicles were bought in 2013.

Sviridov also announced that routes of the trucks were changed the following day after the accident. "We make the route to reduce or completely avoid sections where a loaded truck goes down the hill, only upwards. We tried to change the routes to have less downhill roads," Sviridov said.

The petrol tank lorry flared up near Rixos hotel in Almaty at the crossing of Seifullin and Kabanbay Batyr streets after crashing into an offroader on June 27. The truck's driver died at the accident site because his door got jammed and he could not get out of the truck before the petrol inflamed. The fire moved on to the RealSport sports shop, and #138 Kabanbay Batyr residential building. According to the rescuers, 40 people were evacuated from the building. The 27-y.o. truck driver died on the spot. No other casualties were reported.
July 12 2013, 10:21