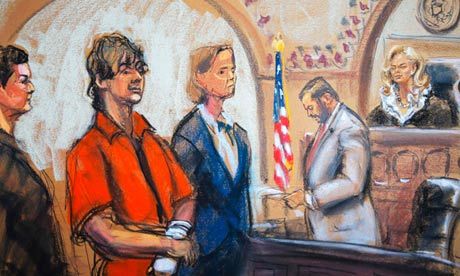 Tsarnaev was arrested on 19 April, found holed up inside the boat, with serious injuries resulting from a gunfight with police. Photograph: Jane Rosenberg/Reuters
BOSTON — In his first public appearance since he was captured hiding in a boat in a Boston suburb almost three months ago, Dzhokhar Tsarnaev, the surviving suspect in the Boston Marathon bombings, pleaded not guilty on Wednesday to 30 federal charges contained in a sweeping terrorism indictment.
With his left forearm in a cast or heavy bandage and with about three dozen victims and their family members looking on, Mr. Tsarnaev stood before a United States magistrate judge, Marianne B. Bowler, and said "not guilty" seven times as he was asked to enter a plea to different criminal counts covering his alleged role in killing three people and wounding more than 260 near the finish line of the race on April 15.

Most of the charges could mean the death penalty or life imprisonment if he is convicted. Mr. Tsarnaev has also been charged in the shooting death of a Massachusetts Institute of Technology police officer three nights after the bombings.

Mr. Tsarnaev, 19, wore an orange jumpsuit over a dark T-shirt and fidgeted as he stood to make his pleas, speaking with an accent, during a hearing that lasted only about eight minutes. When he entered the courtroom, two women believed to be his sisters gasped and began to cry. Several other supporters in the courtroom whispered "yes" the first time he entered a plea of not guilty. One side of his face appeared injured or almost frozen. He smiled at the two women and made a kissing motion toward them when he left.

William Weinreb, an assistant United States attorney, told Judge Bowler that he expected the trial to last three to four months and for 80 to 100 witnesses to be called. The judge set Sept. 23 as the next court date. Mr. Tsarnaev, an ethnic Chechen, is a naturalized American citizen.

The courtroom was hot and tightly packed, but none of the relatives or victims, some sitting just a few feet away from Mr. Tsarnaev, appeared to taunt or jeer at him, though some began to cry as the hearing progressed. Several police officials involved in his apprehension were also in the courtroom, including Chief Edward Deveau of Watertown, Mass., where Mr. Tsarnaev was captured on the evening of April 19.
Outside the courthouse after the hearing, raw emotion and anger poured out from some of the victims and family members.

Liz Norden, the mother of 33-year-old J. P. Norden and 31-year-old Paul Norden, who each lost a leg in the attacks, said that seeing Mr. Tsarnaev at the hearing was disturbing.

"I was actually just sick to my stomach," Ms. Norden said. "I'm angry."

Mildred Valverde, 44, of Somerville, Mass., who suffered a concussion as well as torn ligaments and muscles and still walks with crutches, described the court hearing as "kind of eerie, kind of upsetting."

She added, "I think he should suffer in jail for the rest of his life."

As he stood before Judge Bowler, Mr. Tsarnaev seemed drowsy or tired, and he wiped his mouth and his nose several times, rubbing the back of his neck and grabbing at his jumpsuit, his curly hair flopping over his forehead. Aside from entering his pleas and saying a few brief words to his two lawyers, Judy Clarke and Miriam Conrad, he said nothing during the hearing. Federal marshals bound his hands as soon as the hearing was over and led him out.

Ms. Clarke had sought to enter the pleas on Mr. Tsarnaev's behalf, but Judge Bowler insisted that the defendant enter the pleas himself.

This was Mr. Tsarnaev's first appearance in federal court. He was charged and read his rights while he lay in a Boston hospital bed one week after the bombings — uttering "no" once and mostly nodding or shaking his head in response to questions — and then indicted on June 28.

Mr. Tsarnaev has recently been confined to a medical facility at Fort Devens, a United States military base 40 miles west of Boston, where he has been treated for gunshot wounds sustained during the shootout and pursuit that led to his capture in Watertown.

Federal prosecutors say Mr. Tsarnaev conspired with his older brother, Tamerlan, to carry backpacks containing pressure cookers filled with explosives to the marathon finish line, placed them amid scores of spectators near the end of the route and scuttled away before the bombs exploded seconds apart at 2:49 p.m. The blasts sent nails and ball bearings ripping through flesh with such power that they sheared the legs off some victims. Prosecutors say the two brothers also shot and killed the M.I.T. police officer, 27-year-old Sean Collier, on the night of April 18 in an effort to grab his service weapon.

Tamerlan Tsarnaev, 26, died early on the morning of April 19 after a gunfight with the police in Watertown, during which Dzhokhar drove over him as he escaped in a carjacked Mercedes S.U.V., according to the federal indictment.

Before the hearing, about half a dozen current and former members of the wrestling team at Mr. Tsarnaev's high school lined up outside the courtroom hoping for a glimpse of a fellow athlete who had once seemed to have a bright future but had now become a mystery.

"It's strange," said Shun Tsou, 20, who spent three years on the team with Mr. Tsarnaev. "I'm torn on the whole situation."

He said he was not sure yet whether he believed his former team captain was guilty, and he wanted to see what happened in court on Wednesday.

"I really want to see what his reaction is today," Mr. Tsou said, "if he doesn't care, if he does care — I want to see."
July 11 2013, 11:56