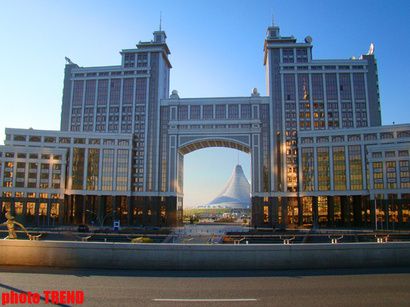 Kazakhstan's national oil and gas company KazMunayGas is set to enter the markets of Ukraine and Turkey and considers buying filling station chains, raw material import terminals and distribution stations in these countries, reports Prime citing First Deputy CEO Kazmunaygas Daniyar Berlibayev as saying.
"We are carrying on international expansion," Mr Berlibayev said in an interview to Financial Times.

By 2020, KMG plans to double its oil reserves up to 10.3 billion barrels from 5.8 billion, also thanks to a geologic exploration company on a three billion dollar contract.
By the close of the decade daily production will grow up to 700,000 barrels from today's 420,000.
According to Berlibayev's forecast, after 7 years the company will export up to 2.2 million barrels of oil a day - of them nearly 400,000 barrels to China and the rest to Europe mostly, in particular, to the Black Sea markets.
KMG intends to refine the greater part of export oil at its refineries in Romania.
"We want to come to Europe and say - We produce five million tons of oil products. Who wants to buy?" he added.

This is not KMG's first step to "conquer" Europe. In 2007 the firm acquired Rompetrol that owns two refineries in Romania and gas filling stations in seven European countries.
Ever since the Kazakh oil and gas producer has invested billions of dollars to modernise the plants and set them to produce the Euro-5 class fuel.

Kazmunaygas is the holder of 44 onshore oil and gas fields in Mangystau and Atyrau provinces in the west of Kazakhstan.
It covers 65% of oil transportation, 100% gas transportation and 50% of all tanker transporation operations in Kazakhstan.
The company is 100% owned by the state's Samruk Kazyna National Well being Fund.
July 9 2013, 14:49