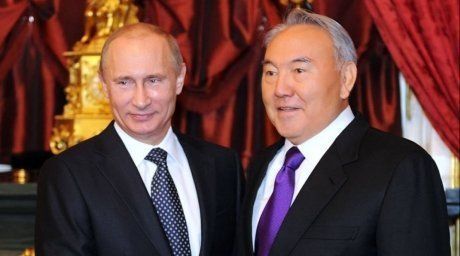 Nazarbayev (R) welcoming Putin in Astana
President Nursultan Nazarbayev has met with the Russian leader Vladimir Putin in Astana, as the latter arrived July 7 to congratulate the Kazakh leader on his 73th birthday and the Day of Astana, as well as to discuss a range of issues between the two countries.
Presidents talked on main points of further bilateral cooperation and implementation of agreements reached at the sitting of Higher Eurasian Economic Council last May in Astana.
"Mutual relations between our countries and peoples are developing in a fast-moving manner, the frequent high level meetings and regular sharing of opinions show that. Economic and political ties are very intensive, processes within Customs Union, Single Economic Space and the newly forming Eurasian Economic Union are developing. The next autumn, Yekaterinburg will host a meeting as part of Interregional Cooperation Forum, which may introduce changes to the primary agreement on good neighborly relations and alliance between our countries. All these suggest there are no unsolvable problems in the relations between our states. I am glad you are now in Astana on the days we are marking its 15th birthday," the Kazakh president said.
Mr Putin in his turn congratulated Nursultan Nazarbayev on the belated birthday and the day of the capital city and wished him success in work.
"You have done so much for Kazakhstan and I am sure you will do no less. The Day of Astana is your day too - because it is your city. I know how you regard it with warmth and soul, like it is your child. I am happy for Kazakhstan people and citizens of Astana, who, certainly, are lucky to live in such a dynamically growing city," the Russian president said.
The two leaders also touched the topic of cooperation in space industry.
"As to bilateral relations we are discussing all of them, including space. Unfortunately, it is a sphere where unplanned things happen. Existing issues will be solved, we have special joint work program," Mr Putin said.

Also, Nazarbayev and Putin considered world matters, including the situation in Afghanistan in light of the scheduled withdrawal of Coalition troops next year.
Kazakh president remarked that processes in Egypt and Syria are a good showcase to other countries.
"It is exactly that bad example the society should avoid," Mr Nazarbayev noted.
Earlier, in his visit to Kazakhstan Russian president had stated Egypt was on the brink of civil war. He cited Syria as an example, where, he said, the process is under way.



July 9 2013, 10:00