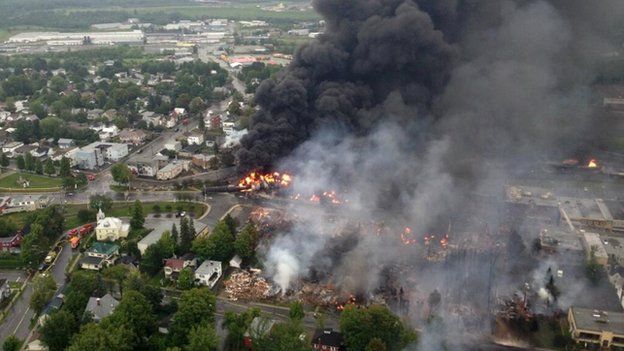 At least one person died and others were reported missing after a train pulling more than 70 tankers of crude oil derailed and burst into flames in eastern Canada near the U.S. border, CNN affiliates reported, citing authorities.

The train jumped the tracks in the small town of Lac-Megantic in the province of Quebec, officials said Saturday. The inferno spread to nearby homes, and authorities evacuated the center of town and a home for the elderly, CNN affiliate Radio-Canada reported.

Thick fuel spilled into the Chaudiere River.

"Words cannot tell the damage that had been done," Quebec provincial police Sgt. Gregory Gomez del Prado said, according to CNN affiliate CTV. "Many, many buildings have been damaged. It's a catastrophe for the town of course, but also for the whole province."

The sergeant declined to say exactly many people were missing.

"We have several people we are looking for. We do expect casualties," he told CNN on Saturday night.

The train was parked and secured late Friday in Nantes, just west of Lac-Megantic, a company representative said, CTV reported.

Joe McGonigle, a vice president at Montreal, Maine & Atlantic, was quoted as saying the train "came loose" early Saturday and "started rolling down the tracks."

The Nantes and Lac-Megantic town centers are about 12 kilometers (7 miles) apart. McGonigle said the train's engine was found near the site of the inferno.

McGonigle said police were questioning the train's conductor, who was at a hotel in Lac-Megantic when the train derailed.

CNN affiliate CTV referred to the crash site as a "war zone" and it said no other injuries have been reported. Emergency officials say some people may have been away when the derailment occurred.

Authorities were investigating.

"Our thoughts and prayers go out to the families and friends of those affected by this morning's tragic train derailment and subsequent fires," Canadian Prime Minister Stephen Harper said.

"We hope evacuees can return to their homes safely and quickly. The people of Lac-Megantic and surrounding areas can rest assured that our government is monitoring the situation and we stand by ready to provide any assistance requested by the province."

Firefighters from the United States helped Canada fight the blaze.

Five of the trucks deployed from the United States, after the sheriff's office in Franklin County, Maine, issued an "all call" for help to U.S. fire departments near the border.

Flames welling up stories high into the night sky were caught on camera and uploaded to YouTube. The video appears to reveal an explosion. Thick black smoke billowed into the air.

A "nauseating" odor spread through the town, Radio-Canada reported, and environmental emergency services dispatched a mobile lab to check for airborne toxins.

The radio station said that the oil shipment was on its way to the United States.
July 7 2013, 11:49