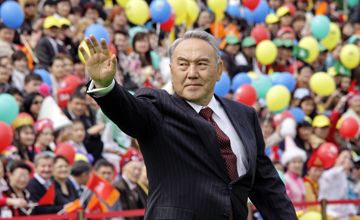 "The name of the Kazkahstan's capital Astana has gone in the global history," the Kazakhstanskaya Pravda quotes the words of the President of Kazakhstan Nursultan Nazarbayev in the article "Astana - the great epoch and strategic vector of Kazakhstan."

For 15 years, Astana glory augments the international fame of Kazakhstan. The name of our capital has already entered into a global history as the venture of the Summit of the Organization for Security and Cooperation in Europe(first in the 21th century), brought together heads of states and governments of 56 countries in Eurasia and North America. Only within the last four years, the city hosted the VII Asian Winter Games, XVIII session of the General Assembly of the World Tourism Organization, XXXVIII session of the Council of Foreign Ministers of the Organization of Islamic Cooperation. Here, four Congresses of Leaders of World and Traditional Religions, have took place since 2003, as well as many other international forums, " the article reads.

Today Astana city is associated with hosting of the International Exhibition EXPO-2017," President of Kazakhstan Nursultan Nazarbayev has stated.The preparation for this event with the participation of more than 150 world countries is underway. It was decided to build an entire city block, which will be provided solely by alternative energy," Nursultan Nazarbayev stated.

In 1999 UNESCO awarded a medal and the "City of Peace" title to Astana. In April 2008, in Moscow competition "The best city of the CIS" Astana won nine prizes out of sixteen!

The article emphasizes that the popularity of Astana crossed national borders, making it a Club Capitals of the World worthy member.
July 6 2013, 13:39