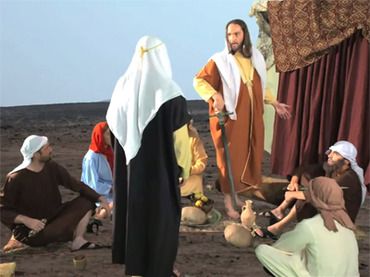 A screenshot from the filmThe Astana District Court has deemed the Innocence of Muslims film extremist and has prohibited it from being screened and distributed in Kazakhstan, the judge said on Thursday, when announcing the sentence.

"The motion put forward by Astana's prosecutor to have "Innocence of Muslims", which is available on Youtube's Internet resources, declared extremist, and to prohibit importing, posting or distributing the film in Kazakhstan has been satisfied," the court's ruling reads.

On September 21, the Kazakh Prosecutor's Office launched proceedings to have the film declared extremist and to ban it in Kazakhstan.
The film portrays Islam and the Prophet Muhammad in a negative light.
80 actors and filming crew members took part in the making of the film. Casting announcement was published in a number of media resources. It read its tentative title was Desert Warrior and the film itself was described as "a historical film about adventures in Arabic desert."
Reportedly, neither Prophet Muhammad nor any reference to Islam was mentioned in the script. Actors claim to have not known about the anti-Islamic nature of the film and allegedly a number of phrases has been replaced during dubbing.

Producers said film budget was $5mln, allegedly, a part of it was received from 100 Jewish sponsors. However, judging by the film trailer, CNN noted it was a low-budget motion picture.

A number of countries have already banned the film from being screened and distributed.
The film was shot in the United States in the eve of the 11th anniversary of the September 11 events. A notorious American pastor Terry Jones, who had previously burnt Quran in front of public, took part in production and promotion of the film. The motion picture caused massive protests in Egypt, Libya, Tunisia, and Sudan, as well as in other predominantly Muslim countries.
The peak of protests resulted in killing of U.S. Ambassador to Libya Christopher Stevens along with three colleagues when rioters attacked the U.S. Consulate in Benghazi on September 11.
WKT
October 4 2012, 15:39