By Laura Suleimenova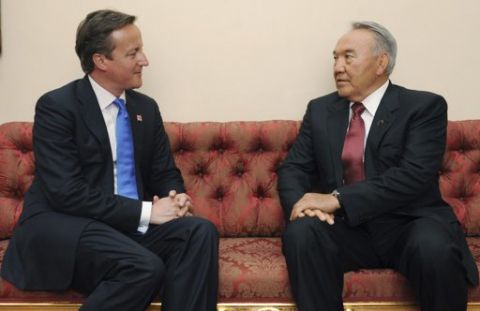 June 30, Atyrau greets Kazakhstan President Nursultan Nazarbayev and British Prime Minister David Cameron.
Kazakhstan sees the first official visit of a British premier in its history.
Among the previous high guests to our country from the United Kingdom were the Royal family members - the then British crown heir Prince of Wales (1996), Princess Anne (1993), Duke of Gloster (2000), Prince of Kent (2009), and Prince Andrew in the quality of the UK's special envoys on commerce and investment issues (2003, 2006, 2007, 2010).
In 2010, Prince Andrew paid visit to Atyrau.
Since 2001 on, British parliament has an all-party group for cooperation with Kazakhstan, which starting 2009 is led by Lord Waverley, Lord of Parliament.
Today, the Great Britain is the third largest investor in the Kazakh economy, following the United States and the Netherlands, mostly in the oil and gas sector.
In the morning, Mr President will attend a Chevron Munaygas Inc. pipe fitting plant in Atyrau, scheduled to open in forthcoming August.
As the next thing, the head of state will greet David Cameron in the airport.
Afternoon schedule includes a joint visit of both leaders to the Bolashak Plant in Karabatan.
British business circles in Kazakhstan will hold a round table in the evening, facilitated by the UK Embassy and the UK Trade and Investment office in Kazakhstan.
Attendees will include the UKTI in Kazakhstan Vice Chairman Sir David Wootton, Colleges Association Director John Mountford, BG Group Acting Director Martin Finlayson, Dando Drilling International Managing Director Martin Fitch-Roy, Kilfrost General Director Gary Lydiate, Wood Group Strategic Development Director Alastair Greene, Worley Parsons Europe Director Greg Conlon and others.
Kazakh side will be represented by Samruk-Kazyna CEO Umirzak Shukeyev, Kazenergy Association Chairman Timur Kulibayev, Kazmunaygas CEO Lyazzat Kiyinov, Baiterek National Holding CEO Kuandyk Bishimbayev, Exploration and Production Kazmunaygas General Director Abat Nurseyyitov, KMG Newly Built Enterprises Directorate General Director Nurlan Balgimbayev, SAT&Company Holding CEO Kenes Rakishev and others.
June 30 2013, 00:07