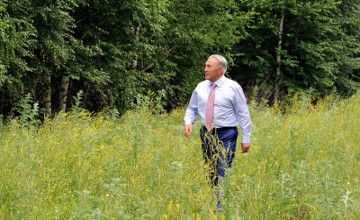 The Head of the State Nursultan Nazarbayev has made a comment upon the situation around Kashagan oil field.
"There are shareholders, including Kazakhstan, which at first was not this way. Without Kazakhstan no one will sell anything and will not encumber," said Nursultan Nazarbayev, answering journalists' questions during a field meeting on development of a "green belt "around Astana.

The Head of State stressed it is a normal process when a shareholder makes a decision to sell its stake.

"This requires a resolution of Kazakhstan. Kazakhstan has the right to redeem itself or allow someone to sell. There is a normal process. I think soon it will be all over and everything will be fine," stated Nursultan Nazarbayev.
June 27 2013, 14:59