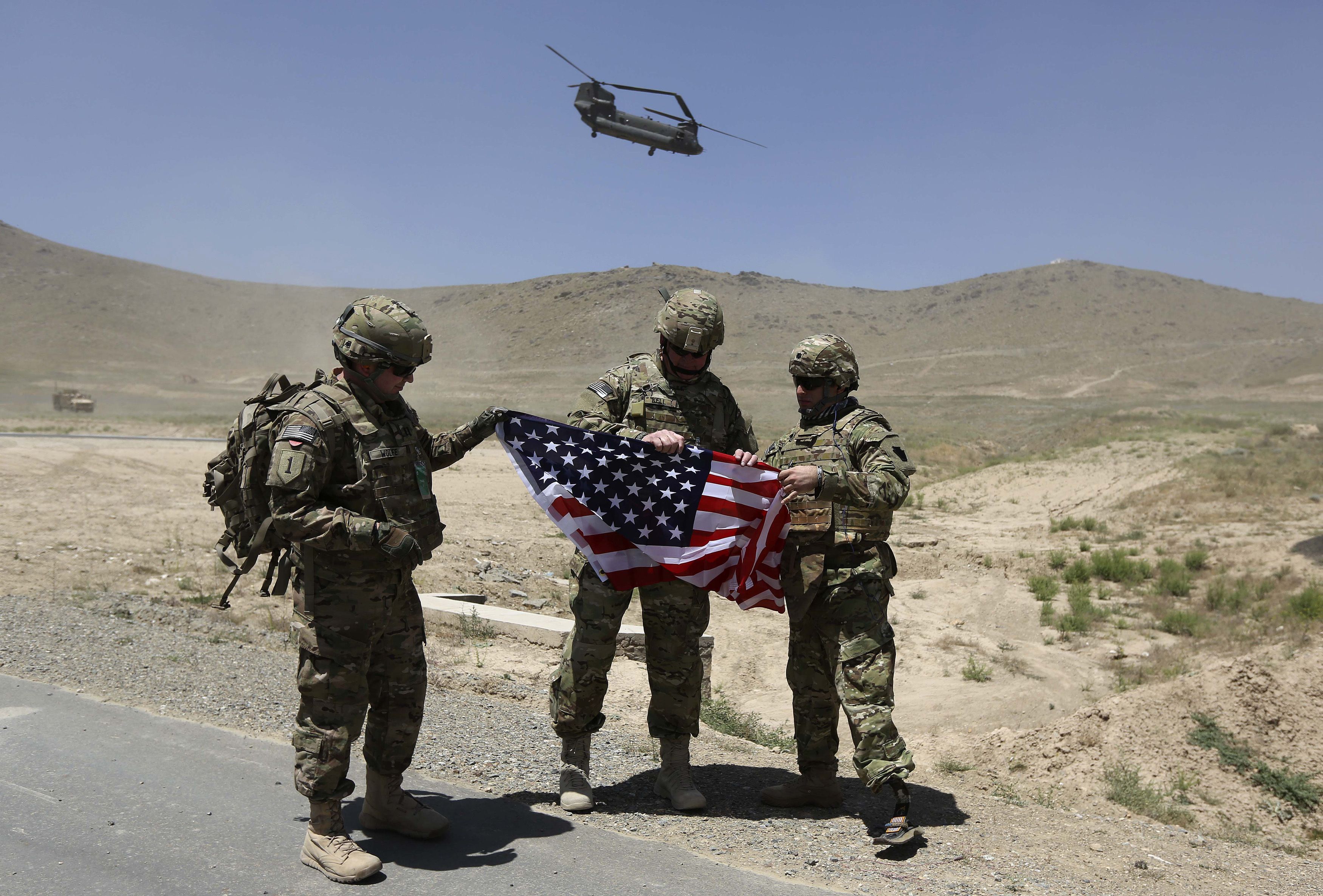 NATO soldiers stand with U.S. flag as a Chinook helicopter takes off after a security handover ceremony at a military academy outside Kabul. ©REUTERS/Omar Sobhani For more information see: http://en.tengrinews.kz/opinion/384/ Use of the Tengrinews English materials must be accompanied by a hyperlink to en.Tengrinews.kz
Military actions may spill into the Central Asian region -- Kazakhstan, Kyrgyzstan, Uzbekistan and Tajikistan -- if an armed conflict flares up in Afghanistan, CA-News writes citing State Management and National Security Department Chairman at the Russian Military Academy of the Central Command of the Armed Forces Vladimir Suvorov, Doctor of Political Science, as saying at the workshop and conference called Islamism and National Security in Russia.

According to the expert, the events happening in the North Caucasus, as well as in certain regions of the post-Soviet space, especially in Central Asia, are of a major concern for Russia's military-political administration. Suvorov believes that development of the military-political situation at this territory largely depends on political regulation of events in Afghanistan.

"In case of escalation of the armed conflict in Afghanistan that is expected after withdrawal of the international Coalition Forces in 2014, the military actions may spill into the former Soviet countries in Central Asia (Kazakhstan being one of them). Russia may be dragged into these conflicts," the expert said.

"International conflicts in the North Caucasus and the Volga region instigated from abroad will have an additional effect. Such threats may be aimed at splitting our country along the Afghanistan-Tajikistan-Kyrgyzstan-Kazakhstan axis on the one hand and driving a wedge from the North Caucasus along the Volga River on the other hand, and further separation of the Ural area and Siberia from Russia's European part with further fragmentation of its territories," Suvorov said.

NATO forces have officially transferred the authorities on ensuring security in 95 districts of the country to Afghan forces. NATO troops at the territory of Afghanistan currently equal to 100 thousand people. They are expected to fully withdraw from the country by the end of 2014.

In May CSTO member-countries decided at the meeting in Bishkek that the collective efforts on provision of security in Central Asia would be required after withdrawal of the anti-terrorist coalition forces from Afghanistan in 2014.
June 26 2013, 11:36