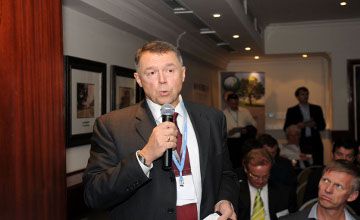 Kazakhstan's oil field offshore Kashagan will certainly help to keep the world price of raw materials, states deputy executive director of the International Energy Agency (IEA), Richard Jones.

The point of view expressed by R. Jones during the Atyrau IIIrd International Oil and Gas Conference titled "Development of the Caspian shelf."

The conference was held under the influence of the upcoming start of development of commercial oil production at Kashagan offshore field, where these days under completion are start-up works prior to commissioning. This is one the most ambitious projects in Kazakhstan, which has been nvested tens of billions of dollars in. One day of offshore field it is planned to produce up to 400,000 barrels of oil.

"Given the available routes for Kazakh oil to the world market in the first place, it will be shipped to Europe. And although in the world balance of Caspian oil resources make up only 2 percent of this supply, ti will for sure will play an important role in maintaining prices of raw materials and profitable producer and the consumer. This will strengthen the role of Kazakhstan as one of the leading suppliers of raw materials, " believes Richard Jones.
June 21 2013, 10:23