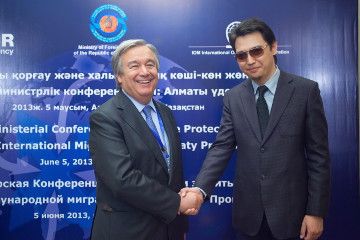 Famous Kazakh singer and composer, founder of Kazakh ethno-pop group "Urker" Aidos Sagat has become the first Goodwill Ambassador for the UN Agency for Refugees in Kazakhstan. It is reported on Meloman.kz.

This honorary appointment took place June 5, 2013 during the II Ministerial Conference on Refugee Protection and International Migration - Almaty process and timed to coincide with World Refugee Day. Kazakh singer was welcomed the High Commissioner of the Agency for Refugees (UNHCR) António Guterres.

"Aidos Sagat has considerable experience of working with us and knows the mandate and objectives of our organization. I would like to emphasize that, as a prominent representative of independent Kazakhstan, possessing tremendous communicative skills, he will inspire the mind and heart of a wide variety of audiences, that will definitely help a better understanding of the problems of refugees, " says the UNHCR Regional Representative for Central Asia Saber Azam.

Since November 2010 Aidos Sagat has cooperated with the UNHCR as honorary patron in Kazakhstan. The composer gave special attention to additional education in the field of music and art.

"I am very excited to be a goodwill ambassador for the UN Agency for Refugees, and I'm sure it will help in the future to direct my efforts to help and support refugees in Kazakhstan. As Honorary Patron I tried to change the lives of refugee children for the better, and I will continue this work as an ambassador of goodwill. Moreover, I also plan to raise awareness about refugees and help improve their situation, " says Aidos Sagat.

This year's World Refugee Day is dedicated to the family, its theme is stated as "One family separated by war is too much." According to the UNHCR, at the end of 2012 there were an estimated more than 42 million refugees, 46% of them are children under 18 years of age.
June 20 2013, 14:39