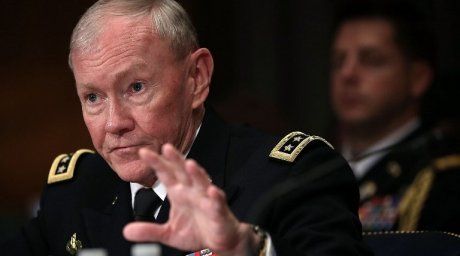 Chairman of the Joint Chiefs of Staff General Martin Dempsey.
Top US military officer General Martin Dempsey has clashed with Secretary of State John Kerry over the merits of bombing Syria's regime at a White House meeting, AFP reports citing media.

Kerry reportedly argued for air strikes against regime air bases used to employ chemical weapons against Syrian rebels at a discussion last week in the White House Situation Room, wrote Bloomberg columnist Jeffrey Goldberg, citing unnamed sources.

But Dempsey, chairman of the Joint Chiefs of Staff, issued stern warnings that air strikes carried grave risks and would require large-scale bombing raids to take out Syria's air defense system, the report said.

"According to several sources, Dempsey threw a series of brushback pitches at Kerry, demanding to know just exactly what the post-strike plan would be and pointing out that the State Department didn't fully grasp the complexity of such an operation," the report said.

US officials acknowledged there were frank discussions and debate over policy on Syria but sought to downplay the report's portrayal of a heated exchange with raised voices.

"The chairman has been open in saying that we need to understand all the options and we need to understand the consequences" of any military action in Syria, a defense official told AFP.

Dempsey sees his role as offering his best advice on the implications of any military action and had not staked out a position rejecting intervention, the official said.

"He wasn't saying we shouldn't do this," said the official, who spoke on condition of anonymity.

The official said the report "overplayed" the emotions, stressing that candid debate in which senior officials weigh the risks and benefits of policy options is "how the the system is supposed to work."

The State Department refused to disclose the details of high-level policy discussions but said the description of the atmosphere at the meeting was off the mark.

"I've seen some of those reports about the tone, which is very inaccurate," spokeswoman Jen Psaki told reporters.

Senior diplomats and defense officials "are here to give the president the best advice and debate out the pros and cons of every option," she added.

Dempsey's spokesman, Colonel Dave Lapan, declined to comment on what he termed "classified internal deliberations."

Senior officials attending National Security Council sessions "routinely debate a wide range of options to include how the military can and should support a comprehensive, regional approach to this conflict," he said.

Kerry's preference for stronger action on Syria has been widely reported and public comments by Dempsey have made clear the general's reservations about the potential risks of intervention.

In an interview that aired Monday on PBS television, President Barack Obama expressed skepticism that setting up a no-fly zone in Syria or air strikes could save lives or tip the balance against President Bashar al-Assad's regime.

Obama said critics urging bold intervention failed to understand there was no simple solution and "if you set up a no-fly zone, that you may not be actually solving the problem."
June 20 2013, 14:36