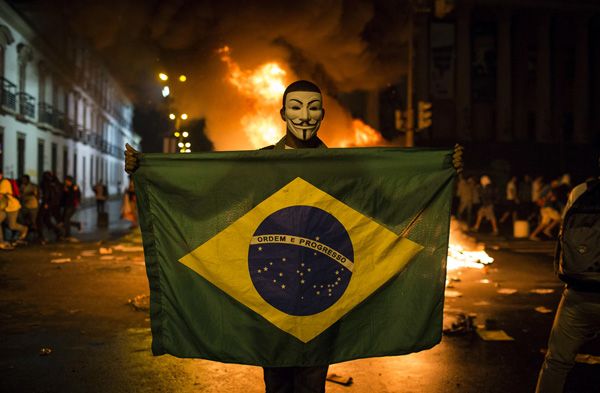 Youths clashed with police in central Rio de Janeiro yesterday as more than 200,000 people marched in major Brazilian cities to protest against the billions of dollars spent on the Confederations Cup and higher public transport costs.

The nationwide demonstrations, the most extensive since the unrest began 10 days ago, were relatively peaceful. However, acts of vandalism were reported in Rio and Porto Alegre.

Police used tear gas, pepper spray and rubber bullets to disperse small groups of masked youths engaging in acts of vandalism near Rio's state legislative assembly. Some of the young people broke into the building and television showed a small fire.

Five policemen were reported hurt as 80 others holed up inside the assembly building which was surrounded by rowdy demonstrators.

Elsewhere in Rio, a host city for the Confederations Cup, police said about 100,000 marched, notably down Rio's central Rio Branco avenue.

In Brasilia, more than 200 youths briefly occupied the roof of the National Congress. But after negotiations with police, the boisterous crowd agreed to leave, chanting and waving placards as security forces ringed the building.
Some of the protesters called for the resignation of President Dilma Rousseff. Later, an estimated 5000 youths formed a human chain around the Congress building.

In Sao Paulo, the country's economic capital and most populous city, an estimated 65,000 staged a generally peaceful march, with no repetition so far of the violence that marred similar protests last week.

"Peaceful demonstrations are legitimate," said Rousseff in a bid to calm tempers. "It is natural for the young to demonstrate."

Sports Minister Aldo Rebelo warned that the authorities would not allow the protests to disrupt international soccer tournaments Brazil has pledged to host - the Confederations Cup and next year's World Cup.

"The Government assumed the responsibility and the honour to stage these two international events and will do so, ensuring the security and integrity of the fans and tourists," Rebelo said.

But the spreading unrest is tainting the image of South America's dominant power as it hosts the Confederation Cup this month, in a dry run for the World Cup.

The protests over a hike in mass transit fares from US$1.50 ($1.88) to US$1.60 began 10 days ago in Sao Paulo, days before the opening of the Confederations Cup. The tournament brings together eiwght national teams from around the world in six Brazilian host cities.

The unrest rapidly spread to other cities with demonstrators focusing their anger not just on the transport fares but also on US$15 billion the Government is allocating for the Confederations Cup and the World Cup.

The demonstrators want these resources to be earmarked instead for healthcare and quality education in a country with vast economic disparity between rich and poor.

"I came because I want Brazil to wake up. It's not just to protest the higher transport fares, but also because of shortcomings in education and health," said 20-year-old Diyo Coelho, who marched with friends carrying flowers in Sao Paulo.

"I am here to show that Brazil is not just about football and partying," said Daiana Venancio, a 24-year-old lawyer marching in Rio.

"We have other concerns, like the lack of investments in things that really matter, like health and education," she said.

AFP
June 19 2013, 14:23