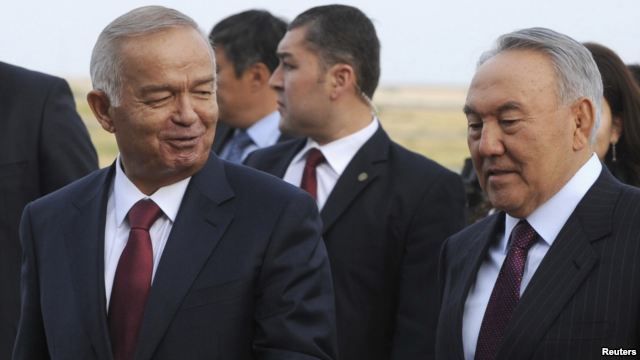 Kazakhstan's President Nursultan Nazarbayev and his Uzbek counterpart Islam Karimov have met at Kuskaroi, Tashkent-based Uzbek President's Residence, to dwell on cooperation between the two nations, Tengrinews.kz reports.

Following the signing of intergovernmental documents, Mr. Karimov publicly stated that Kazakhstan and Uzbekistan are not competitors to each other as conditions in the two countries are absolutely different and the countries' tasks do not overlap.
"There has been no competition (…) the two nations rely on absolutely different natural resources (…) with cotton industry being the mainstay of the Uzbek agriculture and Kazakhstan mostly relying on grain industry", he said.

He also emphasized that the talks had been fruitful to further ties between the two nations, with the agreement on strategic partnership reflecting priorities of the long-term partnership in the economic and culture realms.

Among other things the two Heads of State dwelt on use of water resources and exchanged their opinion on the current situation in Central Asia.

"We have reiterated our shared responsibility for the future of the two countries' people, (…) taking into account the lingering global financial crisis, its hard-to-predict repercussions for the region and adjacent territories, escalating extremism, tensions over the planned withdrawal of ISAF forces from Afghanistan", Mr. Karimov said, stressing that the two nations would be taking all the necessary measures to keep peace in the region.

According to Kazakhstan's President Nursultan Nazarbayev, interaction of the two nations would have a direct impact on stability in the region. He also pointed to the necessity of further developing cooperation in trade and culture realms.

"We have given respective instructions to the governments (…) the work of the intergovernmental committee is of great importance (…) gradual shift to a free trade zone to the common interests of the two countries is very crucial", Mr. Nazarbayev said.

"The bilateral relations are based on solid time-tested ties and programs of culture cooperation to 2015 (…) I am drawing special attention to the fact that Kazakhstan is opening its embassy in this country of special importance to us", Mr. Nazarbayev summed up.
June 14 2013, 17:09