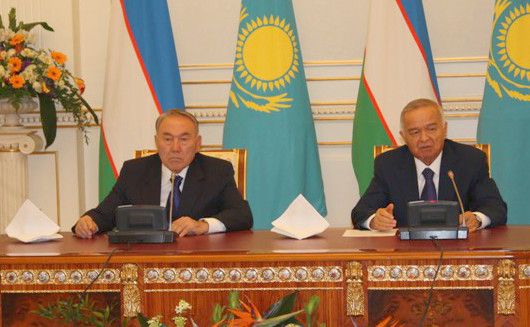 We need a dialogue to solve the problem of transboundary rivers. This has been announced today to the media by the President of Kazakhstan Nursultan Nazarbayev after bilateral talks with his Uzbek counterpart Islam Karimov.

As the President noted, today's talks are a thorough and open exchange of views on development of the situation in Central Asia.

"We have considered issues of regional character. It has brought together five states, because as we will be working, we will trust each other and address our issues without involving other states, very much depends on it for our future ", said Nursultan Nazarbayev.

"Our approach in many aspects, including water issues in the region are the same. Thereby we want to send a friendly message to our neighbors that we should solve these issues on our own. There are no unsolvable problems and matters, " stated the head of state.

"This applies to the construction of new hydro plants on rivers. We are convinced that mutual actitivites in this vital area is only possible on the basis of negotiations, enhancing mutual trust without confrontation. We believe they have their own economic problems they are trying to solve this way. But every state has its problems, and one can not solve one problem at the expense of another state, we are just talking about it. This problem of transboundary rivers is not only connected witgh us. There are similar issues in the world. Along Danube river there are 17 states, they have adopted the Convention and all peacefully use the water. Indus River - what confrontations and wars took place there, however they adhered to the Convention ... That is, they have solved the matters, and are normally residing on the area. We do not say that something is prohibited. We can sit down and take into account the interests of each other amicably and confidentially. And if everyone is going to beat his chest, it will not work ", said Nursultan Nazarbayev.

"It is also necessary to ensure transparency and the interests of all countries of the region. What can be said agaisnt what has been stated by Islam Karimov. Do make expertise, convince the world and us, Karimov and Nazarbayev, and the people that there will be no flood one day. Make sure that the farmers will not be left without water and there will be electricity. We are ready to gather to tal. In Kyrgyzstan and Tajikistan they have have questions of transport and energy. We are also ready to deal with these issues. Therefore, I am personally convinced that this is solvable problem. We need a dialogue, it can be held in any part, in our Astana and Tashkent, or as part of an international fund called "Saving the Aral Sea", said the President of the Republic of Kazakhstan.
June 14 2013, 15:30