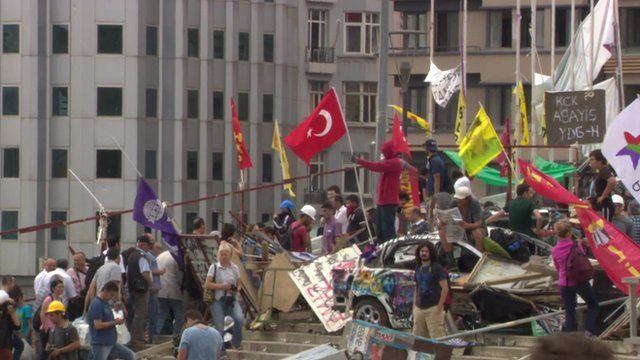 The deputy chairman of Turkey's ruling AK party says it is open to the idea of a referendum on controversial plans to redevelop Istanbul's Gezi Park.

Huseyin Celik hoped the "gesture of goodwill" would clear the area, but said those who remained would "face the police".

Police treatment of people campaigning against the redevelopment triggered broader demonstrations from 31 May.

Overnight, police in the capital Ankara fired tear gas to disperse protesters.

Senior European diplomats have expressed deep concern over Turkey's response to the protests. There is still no obvious way out of the impasse that has seen unrest in cities across the country for the past two weeks.

Demonstrators accuse Prime Minister Recep Tayyip Erdogan of trying to impose Islamic values on a secular state.
'End the protests'

There was an uneasy calm in Gezi Park on Thursday morning, with a very heavy police presence and water cannon deployed around Taksim Square - which the park adjoins.
Mr Celik's comments represent the first time that the AK party has openly discussed letting voters decide what happens to the park, where demonstrators have remained throughout the protests, says the BBC's James Reynolds in Istanbul.

"We might put it to a referendum... In democracies only the will of the people counts," said Mr Celik.

"We think that after this gesture of goodwill, people will decide to go home."

But he warned: "Those... who seek to provoke and remain in the park will face the police."

There was a mixed reaction among protesters on Twitter, with some welcoming the proposal and others mistrustful of the authorities.

Turkish media reported on Wednesday that Mr Erdogan had told the interior minister to end the protests in Gezi Park within 24 hours.

More than 20 opposition MPs have gone to the park to try to prevent any police intervention.
'Freedom of speech'

Police stood along the edges of Taksim Square on Wednesday evening as hundreds of protesters gathered - although in much smaller numbers than on Tuesday, when there were a series of violent clashes.
In both Ankara and Istanbul, on Wednesday thousands of lawyers left court in their black robes to march through the streets, protesting against the treatment of their colleagues during demonstrations.

Dozens of lawyers were briefly held in Istanbul on Tuesday as they voiced their opposition to police action to clear the square.

"Our friends who had been detained in Istanbul were taken under custody just because they were reading a press release," said one of the lawyers in Ankara, Mehmet Toker. "We are here to defend freedom of speech."

Late in the afternoon, Mr Erdogan met a group of 11 people - including artists, architects and a social media specialist - to discuss the situation in Gezi Park.

Kutlug Ataman, a film-maker who attended the meeting, told CNN that Mr Erdogan had said he would propose a referendum on the issue to the AK party's decision-making committee.

Those in the park and Taksim Solidarity, an umbrella group seen as most representative of the protesters, said the group that had met Mr Erdogan did not speak for them.

"As police violence continues mercilessly... these meetings will in no way lead to a solution," said a statement from Taksim Solidarity.
June 13 2013, 14:40