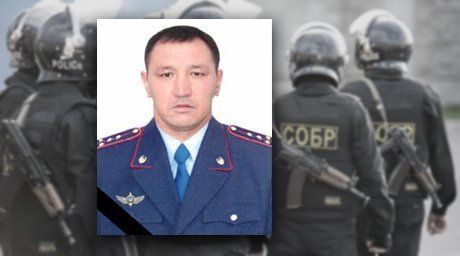 An officer of a special rapid reaction unit has been killed during a special operation in Yermenssai village of Almaty oblast, Tengrinews.kz reports citing a representative of the investigations department of Almaty oblast Interior Department Saltanat Azirbek.

According to her, an 80-y.o. resident of one of gardening communities of Alatau village called the police in the evening of June 11. She reported on the inadequate behavior of her 63-y.o. neighbor who was attacking passersby and throwing an axe, a shovel and rocks at them. Following the call, the local police officer Shakir Mussakhunov arrived at the site6 but the troublemaker refused to talk to the officer and started throwing shovels and axes at him instead and then shot his sawed-off shotgun at him. The officer was delivered to the hospital with multiple shell wounds in his neck and back.

"The shooter lived in his garden house alone; he was always aggressive and had conflicts with neighbors. It was also confirmed that a day before the incident the shooter had a fight with an elderly neighbor and shot at the windows of her house where her granddaughter was staying. The girl managed to dodge the shot and was not wounded," Azirbek said.

Later the same day 25 search groups were organized and searched in 174 garden houses in the community, looking for the police officer's shooter. "Early in the morning Vladimir Ryabtsev was discovered at the territory of an abandoned house. Hiding in the auxiliary building, he suddenly shot at an officer of Arlan special division -- police captain Yerzhan Akhmetov. Another officer who was next to him reacted immediately: he shot the armed criminal who died in an ambulance car on the way to the hospital. Unfortunately, the wounds of captain Akhmetov were deadly as well. He also died during hospitalization," Azirbek said.

Police is currently identifying the weapon and finding out whether Ryabtsev had any mental disorders. Captain Akhmetov had a wife and three children. "Police captain Yerzhan Akhmetov was born in 1973 in Kalpe village of Almaty oblast. He served in the Interior Department since 2004. During this years the officer received 29 awards and had no punishments awarded," the Interior Department stated.
June 13 2013, 11:43