North Korea is a difficult place for journalists to visit, but tourists are welcome so long as they do what they are told. Juliet Rix found an organised tour allowed her a glimpse of daily life under the secretive regime.
I am sitting on a rug under a tree being plied with food from a small barbecue and a variety of plates by a smiling family. I add a little offering of my own to the spread - a packet of chocolate eggs.

The father of the family examines them closely and hands them to his three-year-old son. The boy steadily consumes the entire pack with deep concentration. Chocolate is not common here. Neither are foreigners.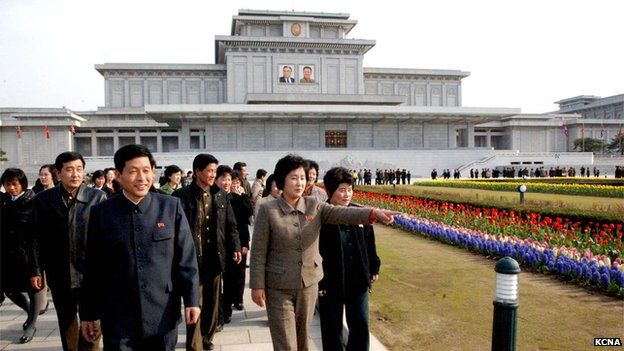 North Koreans visit Kumsusan Palace, where Kim Il-sung and Kim Jong-Il are both enshrined
We are picnicking in a park in Pyongyang, capital of North Korea, the world's most insular and secretive state, last bastion of Soviet-style communism and one of the international community's loosest cannons.

Sitting here in the genuine warmth of this family - who have not been chosen by any guide or minder - it is difficult to link their friendliness and desire to share and communicate, with the bellicose rhetoric issuing from their government.
Our guide is embarrassed when I ask for a translation of one of the many slogans plastered around Pyongyang. It says something to the effect of "death to the US Imperialists".

We have two Americans in our group. When they reveal where they are from to a class of students learning English at the Grand People's Study House, there is a sharp intake of breath.

But foreigners are treated with respect wherever we go in North Korea.

And in the park we go as we please. This is something to be savoured.

You can only visit North Korea on an organised tour. Our group of 11 has three Korean guides as well as our English tour leader.

Wandering off is not an option. Merely walking towards the exit of our hotel compound on a night outside the capital caused four soldiers to appear from nowhere and shout in apparent panic.

Today in the crowded park, though, is an exception. We wander at will.

While some of us picnic, others join in a tug-of-war, sharing much sweat, laughter and high-fiving with local team-mates.

This is probably set up, but the picnic and the game of frisbee with local teenagers (the frisbee brought by the tourists but left with the kids) is certainly not.
I am surprised and gratified by the openness of the local people.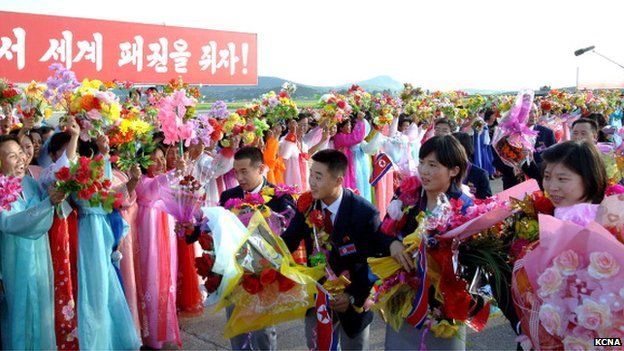 North Korea is careful about the image it presents to the outside world
In many respects North Korea is reminiscent of China and Russia in days gone by - complete with incessant martial music, loudspeaker propaganda and kids in uniforms with red neckerchiefs - but there is far less of the wariness of foreigners I remember from China or the Soviet bloc in the 1980s.

This may be partly because this is Pyongyang - a city of the privileged (relatively speaking).

To live here you must be born into an approved family already resident, or serve the party with exceptional zeal.

Nobody may enter the city without a permit, or indeed leave it.

The capital is undoubtedly better off than elsewhere. We saw no evidence of lack of food, despite admissions that while the famine is over, there are still shortages.

Power cuts are much less frequent in the capital too - although there was no light on the displays of clothes, imported toys, new but old-fashioned stoves, sofas and loud-hailers in the model department store we visited.

Pyongyang is also unusual in having traffic.

There is not much and the cars are very recent arrivals, almost all owned by the government or the military - but I did spot a lone car advertising hoarding high above the city centre.

Is this a taste of things to come? New buildings have sprung up too and bright children's playgrounds. Rollerblading is the latest craze. Our guides say that in the last four or five years life has become much more colourful.

The government has recently declared a drive to beautify Pyongyang, which is why, we are told, we see numerous gangs of "volunteers" spending their Sunday laying pavements and squatting on the verges their fingers in the dirt, carefully planting grass seeds one by one.

If this is how Sunday is generally spent, no wonder the people in the park are making the most of their day off.
We visit a second park, where there is more of an attempt to keep us together.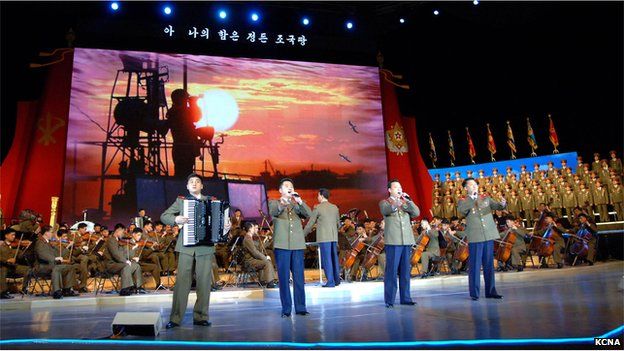 A performance to celebrate the founding of the North Korean army
Perhaps we mixed too enthusiastically in the last one. I politely complain and find I am allowed to wander from the group.

Plenty of wine and soju - the local rice liquor- has been consumed.

Music fills the air, boomboxes compete with traditional flute and drum. The music is mostly folk and very much Korean. There is nothing I recognise as Western pop.

People sing and dance.

I stand watching as men and women from grandparents to toddlers float their arms elegantly and sway their bodies.

And then a man takes my hand. He draws me into the group of dancers, leads me over to a couple of women and we dance. Or rather, they do. I make pathetic attempts to copy.

But who cares what I look like? I am dancing in the park with North Koreans and we are all smiling broadly. If only our governments' international relations were so simple.
June 10 2013, 10:31