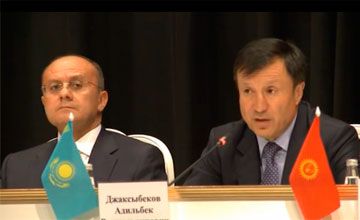 "Joint air defense system is one of the most effective form of interaction of the CIS air forces," Kazakh Minister of Defense Adilbek Dzakhsybekov announced at the 64th session of the CIS Defense Ministers' Council, the press service of the Defense Minister of Kazakhstan reported.

'A joint exercise of the united air defense system of the Commonwealth of Independent States will take place in August-October 2013. The exercise is titled as Combat Commonwealth 2013. The exercise will involve live fire by troops of the united CIS air defense system. The exercise will take place at permanent stations of the troops, at the firing range Ashuluk in Russia and at firing ranges in Kazakhstan," Dzhaksybekov added.

According to the Defense Minister, such cooperation will strengthen the military interaction of the CIS armies. As for the Kazakh Army, the united air defense system will improve defense capacity of Kazakhstan and will create the basis for cooperation with our colleagues," the Minister stressed.
June 10 2013, 10:23