By Saule Tasbulatova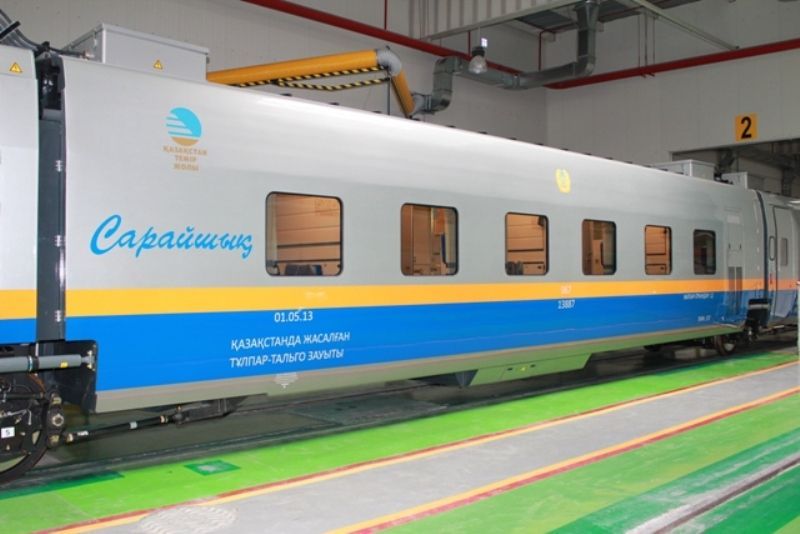 Tagged Saraishyk, the brand new Tulpar-Talgo speed train will begin its maiden trip from Almaty June 8 to reach Atyrau June 10.

The head of Passajirskiye Perevozki JSC [Passenger Transportation] media service Timur Assylkhanov says it takes 35.5 hours for the new train to cover 2.655 kilometers, the distance between the two cities by rails.
In comparison, the normal train travels the route in 49 hours.
Manufactured in Kazakhstan, Tulpar comprises 27 cars, of which 2 are of Grand lux class - two person compartments with showers, 2 Business class cars - with two person compartments, and 18 Tourist class cars - four persons compartments.
The Grand class car has one special compartment for passengers with limited physical capabilities.
Shower, separate toilet facilities, automated doors and a call-the-conductor buttons are available in the car.

Unfortunately, to have a ride on this comfortable train is an expensive pleasure.
Rates vary depending on the day of departure. On weekends ticket prices are higher.
Grand class ticket costs 41,000 tenge [45,300 on weekends], Business - 30,300 tenge [33,100], Economy - 18,400 [22,700].
A ticket for the normal Atyrau-Almaty train costs 9,707 tenge.
According to Passajirskiye Perevozki, within the range of government's transport infrastructure development program, it is intended to launch another 5 speed trains by 2015 - Astana-Atyrau [Sep 2013], Astana-Kyzylorda, Almaty-Aktobe [2014], Astana-Zaschita, Almaty-Zaschita [2015].




June 6 2013, 15:15