By Anastassiya Pastukhova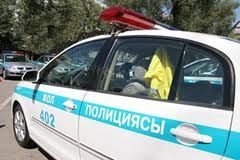 Two road police officers helped put out fire in a house in the village of Peshnoi, in the south of Atyrau.
According to the head of police media service Goulnazira Moukhtarova, Sergeant Azamat Nagirov and Private Zhalgas Sapiyev were on duty on the road on the night of May 21-22.
A passing by car stopped and the driver told them about the smoke coming from some house.
The two rushed to the place indicated and woke up the people living in the house, of which the appendix building was burning with blazing fire by that moment.
In joint efforts they managed to tackle the blaze.
As it turned out, the ignition was the people's fault, who left a bucket with fumigants smoldering to repel mosquitos and went to sleep.
The officers will receive awards for courage demonstrated from the head of internal affairs department.





May 31 2013, 11:16