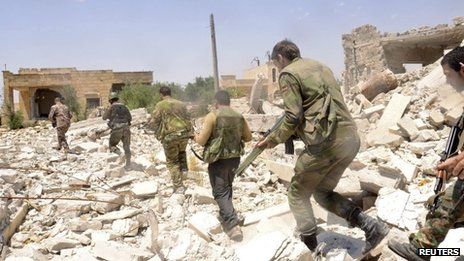 European Union foreign ministers have agreed not to renew the union's arms embargo on the Syrian opposition.

But there was no immediate decision to send arms to Syrian rebels and all other sanctions remained in force, EU foreign policy chief Catherine Ashton told reporters.

The decision came after lengthy talks among divided ministers in Brussels.

A far-reaching package of sanctions against the government of Bashar al-Assad was due to expire on Saturday.

Britain and France had been pressing for the ability to send weapons to what they call moderate opponents of President Assad, saying it would push Damascus towards a political solution to the two-year conflict.

UK Foreign Secretary William Hague welcomed the outcome of the Brussels talks, saying it was "important for Europe to send a clear signal to the Assad regime that it has to negotiate seriously, and that all options remain on the table if it refuses to do so".
But other countries had opposed opening the way for weapons to be sent, saying it would only worsen the violence that has already cost at least 80,000 lives.

Austria had been a key opponent of arms being sent.

"The EU should hold the line. We are a peace movement and not a war movement," Austrian Foreign Minister Michael Spindelegger said.

There has been increasing pressure on the international community to act since allegations emerged of chemical weapons being used in the conflict. Syria has denied using chemical weapons.

In other developments:
- US Secretary of State John Kerry meet Russian Foreign Minister Sergey Lavrov in Paris, with Mr Kerry saying they are both "deeply committed" to a transitional government in Syria chosen by mutual consent
- One of the strongest advocates of US military aid for the Syrian opposition, Senator John McCain, has made a surprise visit to Syria for discussions with rebel leaders
- An unofficial deadline for Syrian opposition to decide whether to join an international peace conference next month passes, as Mr Kerry and Mr Lavrov meet. The opposition has been locked in talks in Istanbul, Turkey
- Fighting in Syria continues around the strategic town of Qusair, a few miles from the Lebanese border, with a prominent Syrian female TV journalist, Yara Abbas, killed just outside the town.
'Adequate safeguards'

EU foreign ministers had needed to reach a unanimous decision to extend the current embargo.

Now individual member states will have to decide what their own rules are regarding sending arms to Syria.

Ms Ashton read their joint text at a news conference, saying member states had agreed not to "proceed at this stage with the delivery" of equipment that has until now been subject to the ban.

She said the EU's Foreign Affairs Council would review this position before 1 August, in light of fresh developments to end the conflict including the ongoing US-Russia peace initiative.

"Member states shall require adequate safeguards against misuse of authorisations granted," the joint EU text said.

The EU embargo, first imposed in May 2011, applies to the rebels as much as the Syrian government.

But in February this year, foreign ministers agreed to enable any EU member state to provide non-lethal military equipment "for the protection of civilians" or for the opposition forces, "which the Union accepts as legitimate representatives of the Syrian people".

UK aid agency Oxfam has warned of "devastating consequences" if the embargo ends and more arms are sent into Syria.
May 28 2013, 10:02