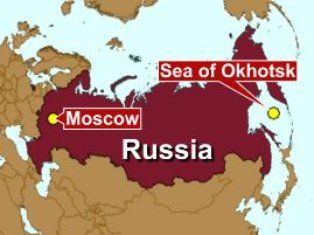 A powerful earthquake on Friday hit Russia's Far East with tremors felt as far away as Moscow, about 7,000 kilometers (4,400 miles) west of the epicenter.

Marina Kolomiyets, spokeswoman for Obninsk's seismic station of the Russian Academy of Sciences, told The Associated Press the epicenter was in the Sea of Okhotsk, east of the Russian coast and north of Japan. She said the quake registered 8.0 on the Richter scale.

The U.S. Geological Survey reported a magnitude of 8.2. The epicenter was in the Kuril-Kamchatka arc, one of the most seismically active regions in the world.

Emergency agencies in the Far East issued a tsunami warning for Sakhalin and the Kuril islands, but lifted it soon afterwards.

Kolomiyets said the earthquake originated 600 kilometers (375 miles) under the sea bed and with the tremors so far down they have the potential to spread quite far.

Russian news agencies reported that residents of Petropavlovsk-Kamchatsky on the Kamchatka peninsula in the Okhotsk Sea felt the tremors for about five minutes. Residents ran out of the buildings. School children were evacuated.

Tremors were felt in Moscow, prompting some people to evacuate from buildings across the city.

Tremors are extremely rare in Moscow, the last recorded instance was in the 1977. The Russian Meteorological Service confirmed these reports but said they did not have immediate information about the magnitude of the tremors of Moscow.

Russian news agencies also cited eyewitnesses reporting strong tremors across Siberia.
May 24 2013, 12:42