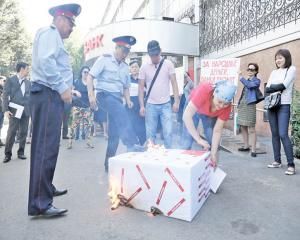 Following promises to conduct a series of pickets in front of second tier banks, mortgage takers held their first protest rally in Almaty.
Demanding full or partial debt write-off, the actions did not limit to broadsheets and slogans - protesters even tried to stage a fire show, reports Channel 31.
To accuse banks in all problems is not an unusual thing in history. However, the latest protests differed from the previous ones in the country - before, people used to call loaners to cooperation and understanding, but now they lay down demands.
Confident with the national bank behind, they want banks to write off their indebtedness.

"This can't be done! Don't throw people to the street. If they treat people like that, if they throw us to the streets, this bank will burn. In the very meaning of this word," stated Sulubike Dzhaksylykova, chairman of "Provide People with Houses" public organization.

To back-up their statement, debtors decided to demonstrate their vision of the future of banks, and ignited a cardboard box.
Police and bank security officers interrupted the fire show, however, chose not to engage in talks with the protesters.
One of the bank's managers appeared and suggested discussing the issue in a more quiet atmosphere.
The bank management assured it is ready to meet people halfway and promised delay to some of the borrowers.
May 24 2013, 10:30