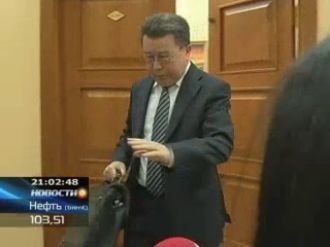 Screenshot. KTK channel
Chairman of Mazhilis, the lower chamber of Kazakhstan's parliament, in fury, showed the door to the deputy minister of foreign affairs.
The cause for such a tough measure was unpreparedness of the official for the questions from lawmakers after he delivered report, according to Channel 31.
Samat Ordabayev even failed to find excuses when saw journalists in the corridor outside of the chamber and run away.

Vice minister of foreign affairs Samat Ordabayev gave MPs a boring time with a monotonus speech about amendments to the "Agreement on Friendship, Cooperation and Mutual Help between Kazakhstan and Russia" and confused answers to the questions received.
Mazhilis-men were tolerable as usual, until Chairman Nurlan Nigmatullin suddenly burst with words that all 107 deputies had been dreaming of:

"Samat Islamovich, I want to warn you - please, do not deliver lectures here. You have come to the parliament, you are being asked questions - please answer them. If you are not ready, let's remove this point from the agenda. You may go, so we listen to you next time. You don't know a thing about the subject, you know nothing. I propose to remove the issue from the agenda," he said aloud.

Ordabayev was turned out of door.

"Every speaker should be ready. Also, when somebody makes a long report, it takes a long time," comments Meiram Begeneyev, another deputy.
Journalists were puzzled how an experienced official happened in such a bad situation after being asked simple questions in the parliament.
Before appointment to the post, he was a minister counsellor with Kazakhstan's embassy in Russia.
By profession he is an agricultural chemist, however, this fact, too, could not explain to journalists the reason of the case.
Seeing media in the lobby, the diplomat picked up the pace, nearly running right away.
Nobody ever run from journalists in Mazhilis like him.
Social phobia of the vice-minister transmitted to Foreign Ministry as well. All the phones in the agency were off today.



May 23 2013, 14:55