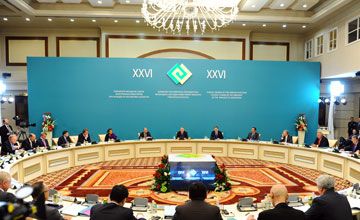 In USSR, Kazakhstan was made a raw material appendage, said Nazarbayev during a foreign investors' council in Astana titled "Innovational and technological development of the Republic of Kazakhstan till 2020," reports a BNews correspondent.
"We highly value you, value your time, your thoughts and desire to work with us. We are holding the 26th sitting of the council, which I am unchangeably chairing," the president noted.
"Formerly, we used to hold it twice a year. Now we have come to times when our partners discuss issues for further development of Kazakhstan. Everything done in the country, was done before your eyes. We have been working together with you for 15 years. And we have been independent for 20 years," the head of state continued.

"After the Soviet Union collapsed, some our 'friends' told that Kazakhstan was not able to build a state and overcome crisis. We have proven they weren't right. We turned everything to the benefit for Kazakhstan. Now we are the 51st in the competitiveness rating and 49th in Business Doing. This is the best indication among the post-Soviet nations," Nazarbayev said.

"Kazakhstan is rich in natural resources. You all know this. Several generations could afford living doing nothing. But in the Soviet Union we were being developed as a raw material base to supply only raw materials," the president said.

"Machinery was not developed here, processing facilities were not built. Sometimes we worry about it, but sometimes we need to feel happy we were that way. Otherwise we would have to demolish everything, as they did in the Eastern Germany at the time. Therefore we used to put our money received from selling resources to a special national fund, where, by now, we have accumulated half the Kazakhstan's GDP," Nazarbayev noted.



May 22 2013, 15:01