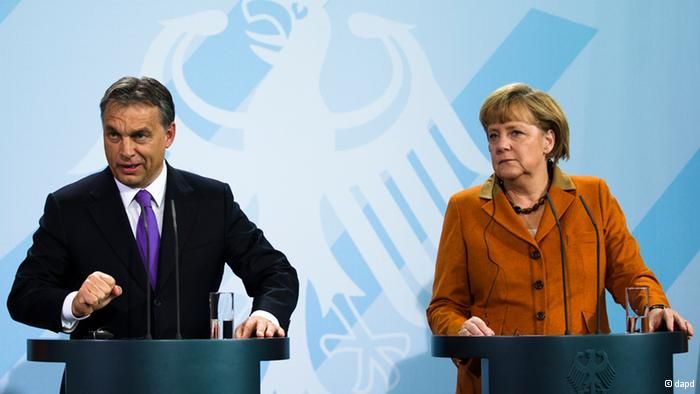 Hungarian Prime Minister Viktor Orban has won some rebukes from Berlin. Irked by Merkel mentioning "cavalry," Orban said his country once had tough experiences with German tanks. His historical data came under fire too
German politicians of most stripes took aim at Hungarian Prime Minister Viktor Orban on Monday, after he used a weekly public radio interview to evoke memories of German Second World War aggression.

"That is a regrettable lapse that we clearly reject," Foreign Minister Guido Westerwelle said on the sidelines of a visit to Belgrade on Monday - after a weekend game of political Chinese whispers went awry.

The frostiness began on Thursday, when Merkel was asked on a radio show about the need for action in Hungary, where a string of constitutional changes have raised eyebrows and prompted investigations from Brussels.

"We will do all we can to get Hungary on to the right path," Merkel said on WDR radio. "But we won't send the cavalry right away." Merkel was playing on a choice of phrase often championed by Social Democrat candidate for Chancellor Peer Steinbrück, who in 2009 joked that it was time to send in the mounted divisions to tackle tax evasion.

A day later, on Hungarian radio, Orban took up the unfortunate military reference gauntlet.

"The Germans have already sent one wave of cavalry to Hungary, in the form of tanks. Our request is, please don't send them again. It didn't work out," the conservative prime minister said.

Only half on the historical money

German troops officially occupied Hungary in March 1944 as part of the bloodless "Operation Margarethe," but prior to this, the two countries were "Axis" allies. Hungarian troops fought against the Red Army, but the government in Budapest remained in clandestine talks with the non-Soviet allies and eventually Hitler implanted even more favorable rulers for what became the closing months of the war.
Prominent Green party politician Jürgen Trittin said Merkel should not accept such criticism and should respond in clear terms to Hungary's "autocrat" Orban. Christian Democrat allies took a more sober tone, with CDU foreign policy specialist Ruprecht Polenz saying in an interview with Spiegel that Orban "is adding more tension to the traditionally strong ties between Germany and Hungary."

Changes to Hungary's constitution and laws have led critics to say the country is threatening press freedom, democratic values and judicial independence. The EU is investigating the changes, which have already been revised once in a bid to appease Brussels.

The president of the European Parliament, Social Democrat Martin Schulz, was most amused by Orban's willingness to "break ranks" to get his shots in.

"I am sure that he understood very well that the chancellor was really just sending an ironic rebuke in Hungary's direction - but his populist tendencies even trump his desires to avoid an attack against his party ally Merkel," Schulz said. Orban's Fidesz and Merkel's CDU are in the same center-right bloc in parliament in Strasbourg.
May 22 2013, 14:56