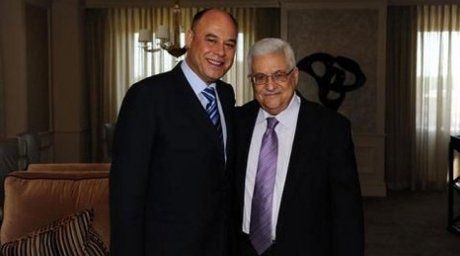 Issam Hourani and Mahmoud Abbas. Photo courtesy of challahhuakbar.blogspot.comThe U.S. court has dismissed a civil action of Rakhat Aliyev's relatives -- brothers Devincci and Issam Hourani -- against Samruk-Kazyna board member Dr. Alexander Mirtchev and his company Krull Corporation, Tengrinews.kz reports citing Kazakhstan Justice Ministry's press-service.

In the lawsuit initiated in 2010 Hourani brothers accused Dr. Alexander Mirtchev of allegedly developing and orchestrating a scheme to strip them of siphoning off and launder money to strip the brothers of their business assets in Kazakhstan and dent their reputation. Hourani brothers and Rakhat Aliyev tried to make the case look politically motivated and make themselves the victims of political persecution.

On May 8, 2013 the U.S. District Court for Washington, D.C. issued the ruling in favor of Dr. Mircthev and dismissed the claim of Hourani brothers with prejudice. The brother have a right to appeal the ruling within 30 days. But since the complaint was dismissed with prejudice the Houranis can no longer refile their baseless claims.

Judge Hogan ruled that "the allegations in the lawsuit were based on implausible conspiracy theories, contradictory statements, and 'documents' proven to be forgeries". Considering the number and nature of discrepancies in the statements, the court tagged the plaintiffs' claims difficult for understanding and consideration.

The forged documents presented to court by Hourani brothers was one of the key factors that affected the ruling. The brothers could not refute statements of legal experts on the forgery and had to exclude the documents from the proceedings. The forgeries were proved by international experts in the arbitration of Caratube International Oil Company LLP (CIOC) against Kazakhstan .

In his statement issued a day after the court ruling Richard W. Beckler, a partner at Bracewell & Giuliani LLP representing Dr. Alexander Mirtchev and Krull Corporation in Hourani v. Mirtchev in the U.S. District Court for Washington, D.C., said that the "dismissed complaint was part of a five-year harassment and smear campaign that has been orchestrated by former Kazakhstan KGB (now KNB) head Major General Rakhat Aliyev, an international fugitive from justice with a well-known agenda. General Aliyev's campaign of implausible conspiracy theories, forged 'documents' and lies has had a number of targets, ranging from heads of state, presidents, prime ministers and royalty, to members of the executive and legislative branches in the US and others countries, and others, such as our client. His campaign of lies has been peddled not only in U.S. courts but also in international tribunals, in various international media outlets, and on the internet.

"General Aliyev's key proxies in this matter have been his in-laws, brothers Issam and Devincci Hourani. This Complaint represented the 'third bite at the apple' for the Houranis, after their previous claims in this court and before an international tribunal were also dismissed. As proven by the Court's decision, these proceedings lack credibility and are an abuse of the legal process. General Aliyev and his proxies' five-year campaign has failed to generate negative public or legal results, or other significant impacts, for our client."

May 16 2013, 17:50