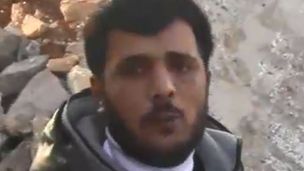 Human Rights Watch and the Syrian opposition National Coalition have condemned a gruesome video apparently showing a Syrian rebel fighter cutting out the heart of a regime soldier and eating it.

"International news agencies and social media websites have been circulating a video clip in which a person claiming to be a member of the rebels in Homs performs a horrific and inhumane act," the National Coalition said.

"The Syrian Coalition strongly condemns this act — if it is revealed to be true. The Coalition stresses that such an act contradicts the morals of the Syrian people, as well as the values and principles of the Free Syrian Army."
Human Rights Watch said the man depicted in the video appeared to be from a rebel brigade in central Homs province that fired indiscriminately at Lebanese villages earlier this year.

"It is not enough for Syria's opposition to condemn such behaviour or blame it on violence by the government," said Nadim Houry, Middle East deputy director at Human Rights Watch.

"The opposition forces need to act firmly to stop such abuses."
In the video, a man identified as Abu Sakkar, an alleged commander of the Omar al-Farouq al-Mustakila brigade, is shown standing over the body of a uniformed soldier.

"We swear to God we will eat your hearts and livers, you soldiers of Bashar the dog," he says as he cuts out the heart in the amateur footage uploaded to YouTube.

"We are the heroes of Baba Amr," he says, referring to a rebel stronghold of the central city of Homs that has been flattened by President Bashar al-Assad's forces.
The man then stands up, raises his dagger in one hand and the heart in the other and raises it to his mouth before the video abruptly ends.

"The Syrian Coalition reiterates its condemnation of such an act and stresses that it is a crime, regardless of the perpetrator," the group said.

"The culprit will eventually be tried in court in front of an honest and fair judiciary."

The Syria conflict flared when forces loyal to Assad launched a brutal crackdown on Arab Spring-inspired democracy protests that erupted in March 2011.

The Syrian Observatory for Human Rights, a Britain-based watchdog, says more than 80,000 people have since been killed, with numerous incidents of mass killings and other atrocities.
May 15 2013, 09:24