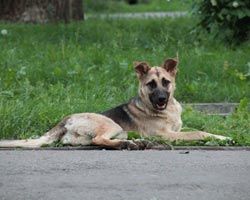 Animal Security foundation and Beliy Bim animal shelter announced they won an animal abuse lawsuit, unprecedented in Kazakhstan, writes nur.kz.
According to the court session protocol, Mr Kalyuzhniy "violently beat up the dog, did not react to remarks from passers-by, if did then in rude way using obscenities".
A woman, who run out of her home after she heard the noise outside, tried to stop the reckless man, but he paid no attention to her.
Then the lady phoned to Beliy Bim animal shelter, of which volunteers arrived to the place soon. The dog was taken to Veterinary Aid Center, where it was diagnosed as having died from "a traumatic shock caused by extensive hematomas in neck, head and spine areas."

The court ruled out to punish Mr Kalyuzhniy giving him 10 days in jail:

"With account of the violator's identity, his crime, i.e. using indecent language in a public place, by doing so breaching public order and disturbing other individuals, the court rules out to bring this citizen to administrative account by means of a 10 day imprisonment," the verdict reads.

At the trial, Mr Kalyuzhniy admitted to his guilt, but claimed the dog was very aggressive. However, employees of a nearby office, who often fed the canine, signed a paper stating it was very friendly.


May 14 2013, 16:20