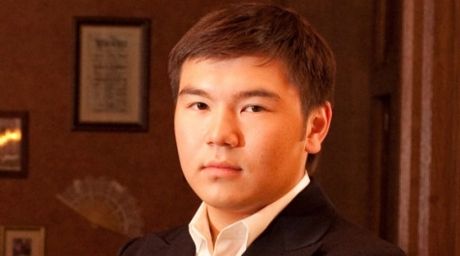 yvision.kzThe youngest grandson of Kazakhstan's president, Aisultan, is getting prepared for his wedding ceremony, KazTAG learned from Nazarbayevs' family friends.
"Aisultan has chosen to marry. Kudalyk [engagement] has already been held and wedding arrangements have started. We will not tell who the bride is so far, the only thing we will say is she is well educated and has a good academic background," the family friends said, adding that her father heads a Kazakh-Russian joint venture.
"The most important thing is that they respect parents and love each other," they said.
Aisultan Nazarbayev, 23, is a graduate of the Royal Military Academy Sandhurst (RMAS) in the Great Britain. Upon return to Kazakhstan, in the rank of lieutenant, he served in military intelligence with the country's defense ministry.
He is the son of Dariga Nazarbayeva and Rakhat Aliyev, a former Kazakh politician, businessman and a diplomat, now in exile.

When in England, Aisultan played in juvenile teams of the English football clubs Portsmouth and Chelsea and when back home - in the reserve of Astana FC.
Kazakhstan's president Nursultan Nazarbayev, 72, has three daughters - Dariga, Dinara and Aliya, three grandsons - Nurali, Altai and Aisultan and five granddaughters - Venera, Denisa, Alisha, Tiara and Alsara, a grandgranddaughter Laura and a grandgrandson Alan.





May 14 2013, 10:50