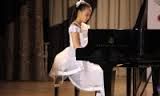 The results of the first round of the Competition for Young Pianists "Astana Piano Passion" in the junior and middle groups have already been announced, astana-app.kz reports.
Junior Group (Category I):
Shuan Hern Lee (Australia)
Roman Borisov (Russia)
Nikolay Varlamov (Russia)
Vladimir Ivanov (Russia)
Sanzharali Kopbaev (Kazakhstan)
Varvara Kutuzova (Russia)
Middle Group (Category II):
Yukine Kuroki (Japan)
Oleksiy Kanke (Ukraine)
Yu Pyol Mi (North Korea)
Alexander Malofeev (Russia)
Young pianists from different countries met in Astana for the First International Festival of Classical Music and Competition of Young Pianists "Astana Piano Passion". The Festival was opened on May 10 and the closing ceremony is scheduled for the May 16, 2013.
May 13 2013, 10:31