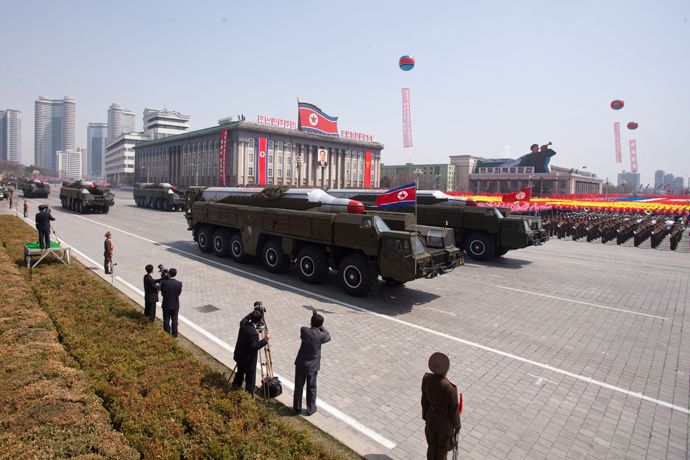 Musudan class missilesIn a sudden de-escalation of tension on the Korean Peninsula, Pyongyang has removed two of its ballistic missile units from their launching positions, US officials confirmed.
Two Musudan missiles, capable of hitting targets 2,500 miles away, were withdrawn from a launch site in the eastern part of the country and moved to a storage facility, several US officials who chose to remain anonymous told the media.

The US, which considers Korean missile program as a threat to its national security in parts of the Pacific Ocean, has confirmed that the weapons have now been relocated, a defense official told AFP.

The news comes soon after Seoul and Washington kicked-off on Monday a five-day anti-submarine drill in the Yellow Sea with the presence of nuclear-powered forces, military officials told Yonhap news agency.

The US mobilized a nuclear-powered Los Angeles-class submarine, Aegis destroyers and maritime surveillance aircrafts to join South Korean destroyers, submarines and maritime aircrafts. A 7,000-ton Nimitz-class nuclear powered super carrier is expected to join the training.

The latest set of drills follow the completion of the two-month-long Foal Eagle exercise, which caused the recent escalation of tension between the North and South, as Pyongyang repeatedly threatened to unleash its missiles on the South and its allies.

North Korea warned against the anti-submarine exercises on Saturday, calling for an end to "hostile acts and military provocations" while threatening closure of the Kaesong complex, the only joint industrial zone and the only communication channel between two Koreas.
Until last month, the industrial zone employed more than 53,000 North Korean workers and hundreds of South Korean managers. The factory gradually began halting operations amid the escalations of hostility followed by the withdrawal of North Koreans working for the 123 South Korean firms in Kaesong park.

South Korean officials criticized their neighbor on Monday for linking defense maneuvers to joint projects.

"It is inappropriate that the North is demanding the cancellation of South Korea-US joint drills by linking it with the Kaesong Industrial Complex," S. Korean defense ministry spokesman Kim Min-seok said in a briefing.

"As long as the North maintains its hostile stance, the joint drills will continue," Kim said.

The developments come as South Korean President Park Geun-hye began a six-day official trip to the US on Sunday, where he plans to focus on the North Korean missile program.

Since the beginning of the two-month joint military exercise between Seoul and Washington in February, the North has issued a number of alarming threats against the South and the United States, including a threat to conduct another nuclear test and a ballistic missile launch.

The escalation of threats from the North also followed introduction of stricter UN sanctions against Pyongyang following the completion of its third underground nuclear test in February.
Russia Today
May 7 2013, 15:37