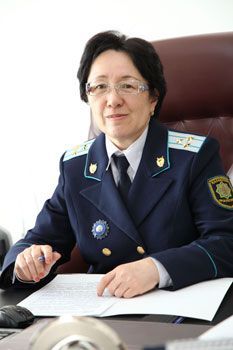 A woman has been promoted to the rank of general within the Kazakh Prosecutor-General's Office for the first time ever, writes Radio Free Europe.

President Nursultan Nazarbaev presented the general's insignia to Saule Aitpaeva on May 6.

Aitpaeva, 52, is the chairwoman of the prosecutor-general's Committee for Statistics and Legal Records.

Nazarbaev announced her promotion at a special ceremony in the capital, Astana.

Dozens of other law-enforcement and military officers also received awards and promotions.

The event took place ahead of the Day of the Fatherland's Defender, which is marked on May 7 each year in Kazakhstan.
May 6 2013, 16:43