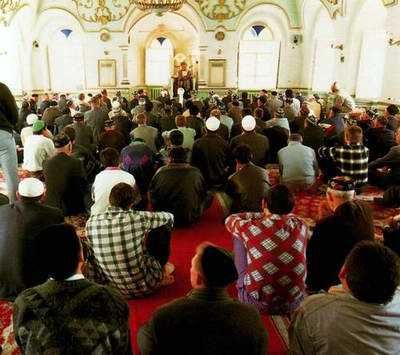 The number of religious institutions will be decreased by one third in Kazakhstan, Tengrinews.kz reports citing chairman of Kazakhstan Agency on Religious Affairs Kairat Lama Sharif as saying at the Senate meeting on September 27.

"As you know, Article 25 of the newly adopted law On Religious Activities and Religious Institutions provides for a transition period that will finish on October 25 this year. All bylaws are already in place and we have been working on re-registration for the whole year already. I would like to note that registration and re-registration of religious organizations is performed by the Ministry of Justice and its regional departments. Agency for Religious Affairs performs the religious inspection in line with the governmental decree. Besides we have a right to check the list of initiators," Lama Sharif said.

According to him, 4,551 religious organizations have to be re-registered. Over 2,300 mosques all over Kazakhstan have already been re-registered, 270 Orthodox parishes are in the process of re-registration. According to Lama Sharif, around 30 percent of the religions institutions will closed as a result of the re-registration. Over 3 thousand out of 4,500 will be registered by October 25.

Chairman of the Agency told about the course of re-registration: "As for Russian Orthodox churches, they all have to be registered. Registration of Lutheran Churches has been completed. I would like to note that they have been the first to finish. We now have only 9 local Lutheran religious institutions. There were 32 of them before the law was adopted," Lama Sharif explained.

He added that the decrease in the number of religious institutions will do no harm to the confessions. Re-registration will only eliminate the non-existing ones. "You know that many of these religious organizations were registered during the reformation period in the beginning of the 1990s and later many ethnic Germans and representatives other ethnic groups moved to their historical homelands during the 1990s. 20 years later we find that many religious organizations exist only on paper," Lama Sharif said. "Before the re-registration there were 197 Christian, Evangelic and Baptist religious institutions registered at the territory of Kazakhstan. Only 60 of them have submitted documents for re-registration. Meanwhile, the confessions are not violating any laws," he added.
September 27 2012, 16:22