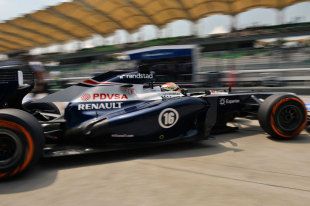 Kazakhstan's capital, Astana, will feature on the Williams © Sutton Images Williams has secured a sponsorship deal with the Kazakhstani investment business TAK Group that will see the name of Kazakhstan's capital, Astana, displayed on the car.
As one of F1's independent teams, sponsorship is Williams' lifeblood and it has pursued a number of novel deals down the years. In the late 1970s and early 1980s the team was one of the first to seek sponsorship in the Middle East and secured various deals with companies owned by the Saudi Arabian royal family.
In more recent years the team has prospered from investment from Qatar and a lucrative sponsorship deal with Venezuela's state-owned oil company PDVSA through Pastor Maldonado, which also includes sponsorship for the country's tourism board. The latest deal will see Astana promoted as a centre for business and tourism on the cars SIS vane and outer nose struts.
"It's with great pleasure that we welcome TAK Group as a new partner of the team and look forward to working closely with them to achieve their marketing ambitions," Sir Frank Williams said.
Artur Ardavichus of TAK Group added: "Formula One is one of the most high profile sports in the world and its global reach will offer Astana an unrivalled marketing platform. Williams is also one of the most respected teams in the sport so it is especially gratifying to partner with them. We are really looking forward to working together this year to promote sport and tourism in the city of Astana and the country of Kazakhstan as a whole.''
May 3 2013, 16:51