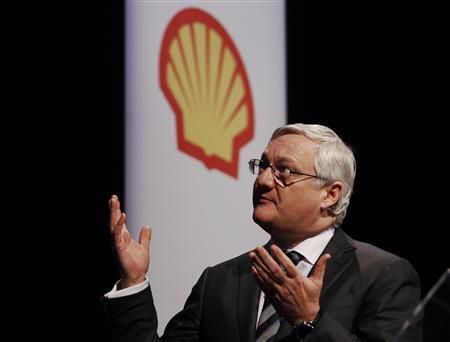 Oil giant Royal Dutch Shell's CEO Peter Voser speaks at the 4th quarter and full year results presentation in London in this February 2, 2012 file photo. Credit: Reuters Royal Dutch Shell's (RDSa.L) 54-year old chief executive Peter Voser is to retire next year in a surprise early departure he said was driven by a desire for a change of lifestyle.
Over the past nine years the softly spoken and widely respected Swiss national has helped drive the group's structural reorganization and recovery from sector laggard to a leading position in the burgeoning industry of liquefied natural gas (LNG).
He took over as finance director of Europe's top oil company in 2004 amid the board-level bloodshed that followed its shocking downgrade of reserves estimates and became CEO in 2009.
His departure comes as the company and the industry face huge new challenges.
Shell is the western world's number two company by production behind Exxon Mobil (XOM.N). But, like its peers, it is struggling to replace reserves and boost production and faces a squeeze on earnings as costs rise while the price of oil threatens to fall decisively below the psychologically important $100 a barrel level.
Finance director Simon Henry said the company was well-placed for the recent fall in prices.
"We also think there are quite few players in the market, quite a few companies, who actually have bet the farm on $100-plus oil prices. We don't," he said.
"We're structured around a lower oil price so it is not bad for us."
Nevertheless, analysts say that among the world's top oil companies, Shell spends more on exploration per barrel produced than any of its competitors. Its most high-profile exploration failure has been in Alaska, where it has spent $5 billion since 2006, and has yet to drill a single complete hole.
Meanwhile thefts, strikes and other issues dog activity in Nigeria where it is the principle international oil company operator. "We were concerned by the level of oil theft in Nigeria at the end the fourth quarter and we are even more concerned now," Henry said.
LIFESTYLE CHANGE
Voser joined Shell in 1982. He left in 2002 to join Swiss group ABB (ABBN.VX), but was back within two years as finance director as part of an effort to stabilize the company after the reserves crisis.
He said his decision to go in the first half of 2014 was a personal one. Shell employees, investors and analysts all said they were surprised to see him go.
"After such an exciting executive career I feel it is time for a change in my lifestyle and I am looking forward to having more time available for my family and private life in the years to come," Voser said in a statement.
Shell said it would look outside and inside the company for his replacement. A spokeswoman said Shell had looked outside for CEOs in the past. However, as with most big oil companies, new chief executives traditionally come up through the ranks.
Henry refused to be drawn on his own prospects for becoming CEO of Shell, Europe's second-largest investor-owned company by value behind food company Nestle (NESN.VX).
Voser has been named in media reports as a possible chairman of Roche Holding (ROG.VX), the drug firm based in his native Switzerland and where he is already non-executive director.
A Shell insider said Voser had indicated he had no plans to take on new non-executive directorships or chairmanships.
STRONG TRADING, LIKE BP
The last of the western world's four biggest oil companies to report results, Shell joined its peers on Thursday in delivering a first-quarter profit that topped market expectations.
Adjusted net profit on a current cost of supply basis rose to $7.5 billion from $7.3 billion a year ago, compared with expectations of around $6.5 billion.
As was the case with BP's results on Tuesday, Shell exceeded expectations by a big margin thanks in large part to its trading activities, which were not split out from the rest of its operations.
Shell's shares climbed 1.4 percent to 2,223 pence, making it the third-best performer among European oil stocks on Thursday.
May 2 2013, 17:40