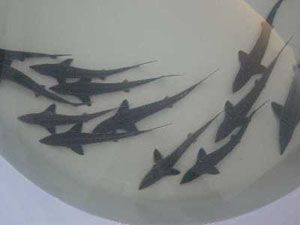 Sturgeon population in Kazakhstan has fallen by 98% over the past decade, reports Kanal 7.

The forecast was voiced by Public Prosecutor Askhat Daulbayev. He told poachery in the Ural-Caspian Basin has grown to industrial scales posing a threat of total extinction for the sturgeon species in the country.
For today, there are nearly 1,300,000 living species in Kazakhstan. The prosecutor criticized poachery fighters for poor work. He also reprimanded the prosecutor's office and law enforcement agencies of Atyrau Oblast.

Recently, police of Atyrau spied out an underground mini-farm producing black caviar. Total weight of the confiscated product was more than 5 kilograms.

By the way, a kilogram of sturgeon caviar costs 150,000 tenge or more at the black market in Atyrau, and sturgeon meat - 2,500-3,000 tenge.

But in Almaty, one will pay from 180,000 to 250,000 tenge for the caviar and 12,000-18,000 tenge for the fish meat.
As for other countries, a kilogram of the caviar is estimated at 8,000 euros.




April 27 2013, 13:39