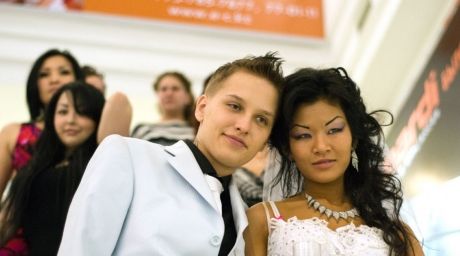 Karaganda, a city in Central Kazakhstan, was the first place in the country to see a lesbian wedding - two beauties - Christina [Chris] and Carolina decided to tie up their destinies here, writes voxpopuli.kz.
The two girls live in Astana, but chose to celebrate their marriage in the city of coal miners, where the couple have many friends.
The event was organized by the leader of Karaganda's gay movement, Vladimir Kornakovski, and the city's famous travesti-diva Ariadna Armandi was the toast master.
Parents and relatives of the just married are well aware of Chris's and Carolina's sexual orientation, but none of them attended the wedding. Only closest friends came to congratulate the "groom" and the bride.

The wedding feast was carried out by all traditions - limo, champaign and so on, however without a ceremony in the civil registration office, as same-sex marriages are not allowed in Kazakhstan.
Instead of stamps in passports, the two were "registered" by the administrator of a local gay club and given a marriage certificate, which was bought in one of Karaganda's underground walkways.
April 27 2013, 12:55