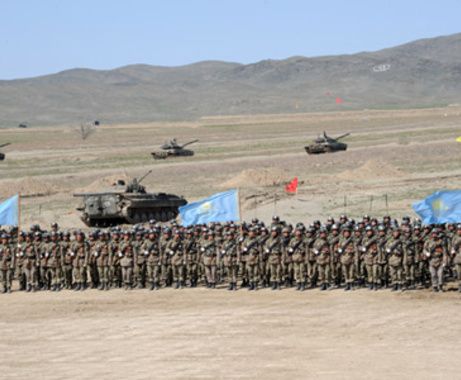 Kazakhstan is actively preparing for its first military parade on May 7, the Day of Defender of the Fatherland, where about 7 000 soldiers will take part, the press service of the Ministry of Defense reported.
"7,000 military personnel, more than 400 armored vehicles and automotive equipment, over 86 aircraft and helicopters will take part in the parade," the Defense Ministry said.

It was emphasized that the parade will demonstrate the professional training of officers and soldiers, coherent actions of units, combat capabilities of modern weapons and equipment used in the Kazakh Army, CA-News reports.

The parade will take place at the 40th military base "Otar" where army units will show their skills in tactics and the practical application of advanced models of weapons and technology used by armed forces.

At the same time in the Caspian Sea, Kazakhstan Navy will conduct live firing, which will be broadcasted live.
April 25 2013, 17:29