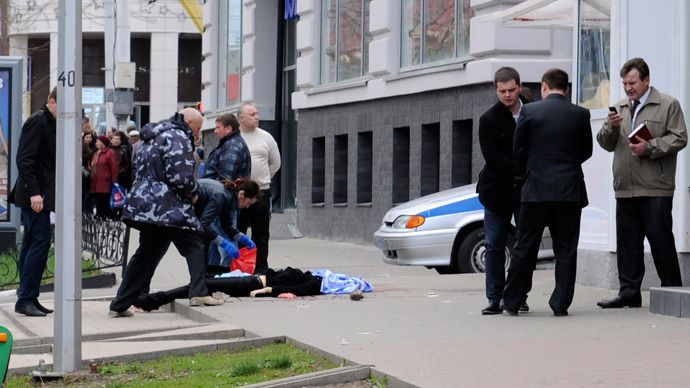 Investigators inspect the body of a victim killed by a gunman in Belgorod, April 22, 2013 (Reuters)Police are searching for a suspect in the Monday shooting in the Russian city of Belgorod. A gunman opened fire near an arms shop, leaving six people dead and one injured. A 14-year-old girl is among those killed.
Police have asked Belgorod residents not to leave their homes because of the special operation. The photo of the suspect – Sergey Pomazun, 32 – and his description have been posted on the internet. Law enforcers also warn that the man at large may be armed with a gas pistol and a semi-automatic rifle.
Local authorities say that some 1200 police personnel are engaged in the search for the fugitive.
About 2pm local time (10:00 GMT) the gunman drove up to a shop in a dark BMW X5. Getting out of the car, he opened fire in the street and then inside the shop. He then managed to flee the scene in his vehicle.
As a result of the shooting rampage, four men aged between 28 and 45, and two schoolgirls were killed, police said. One of the girls, a 16-year-old, was taken to a local hospital, but died later in the ICU. She would turn 17 in just over two weeks - on May 9.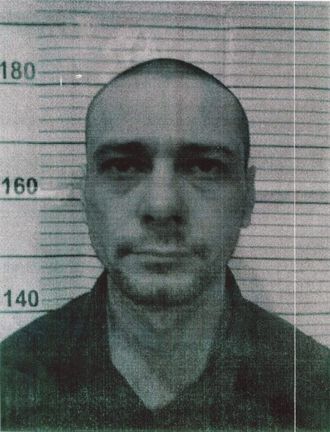 The shooting suspect, Sergey Pomazun, 32The Belgorod shooter allegedly used a Kalashnikov-based semi-automatic 7.62 caliber Saiga carbine, popular with hunters, reports Lifenews tabloid.
The suspect has a criminal record and has earlier been convicted four times, "mainly for thefts," a source at regional Interior Ministry Told Interfax. It is alleged that he attempted to rob the arms shop.
Some media also stated that earlier the shooting suspect had undergone treatment at a psychiatric clinic. It was reported he had been sentenced to compulsory treatment by a court. However, the regional Investigative Committee did not confirm that information.
On the eve of the bloodshed, Pomazun managed to escape road police after he violated driving regulations by driving on the opposite side of the lane and ignoring a red traffic light at a junction, reported Life News tabloid.
Belgorod is a city with a population of over 420,000 people. It is located in the south of Russia's European part, just 40km from the border with Ukraine.
Elena Petrenko - a witness to the drama, who works in a close-by supermarket - says they heard the shooting, which they at first confused for fireworks before looking out of the window.
"There's a school near [the shooting scene]. Children were running asunder and screaming," she told RIA Novosti, adding that the area is generally very crowded with people as there are shops and a central market there.
Dozens of Belgorod residents came to the scene of the tragedy events bringing flowers and candles to commemorate the six victims.
Legally acquired hunting weapons are used only in a tiny fraction of crimes registered in Russia, according to the police. Mass public shootings are also relatively rare, however, there have been several such cases in the last three years.
In November 2012, a Moscow lawyer shot six of his coworkers to death in an office over a broken relationship with a female colleague. Before the rampage, he also posted an online 'hate manifesto' on his Facebook page. The killer obtained a firearms certificate illegally, and it allowed him to carry two sporting guns to the scene of the crime – one of which turned out to be a rifle with 200 rounds of ammunition.
Another case that sparked public outrage and enjoyed unprecedented media attention in Russia was a shooting spree and hostage drama in a Moscow supermarket staged by a district police department chief.
The 'killer cop' gunned down two people and endangered lives of 22 others, injuring seven in the massacre. He also used an illegally-kept pistol to shoot at the approaching police and told them "it would be more fun if I had a machine gun" after he was detained.
It remained unclear, whether the policeman got drunk while celebrating his birthday, or if he had some mental disorder, which the court eventually ruled out before sentencing the man to life in prison.
April 23 2013, 10:18