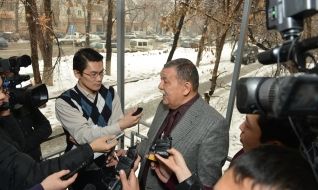 Serik SarsenovSending a petition for mercy by a Kazakh border guard, Vladislav Chelakh, accused of killing his 14 fellow soldiers at the border post of Arkankergen in late May 2012, to the country's president Nursultan Nazarbayev is a mandatory condition for further application to the UN Human Rights Committee, reports IA Novosti-Kazakhstan citing the convict's lawyer Serik Sarsenov.
"The request is a must. The law envisages a petition for mercy. If we complain to the UN Committee without sending a petition here, Kazakhstan will appeal to the committee saying we allegedly failed to use every legal protection possibility available. To avoid that we are asking mercy," Sarsenov said.
Request for pardon will likely be sent in August, as a supervisory instance, the lawyer expects, will refuse reconsideration of the case.

"This is just a formal step (...). Once we laid a request, we will send a complaint to the committee with the copy of the petition attached shortly," the lawyer explains.

He reinforced that in his petition Chelakh will not admit to the guilt, but be insistent upon that all courts in Kazakhstan found him guilty unlawfully.



April 19 2013, 11:40