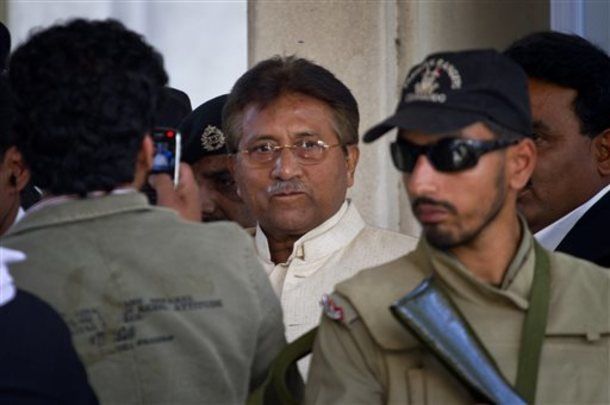 Pakistan's former president and military ruler Pervez Musharraf, center, leaves after appearing in court in Rawalpindi, Pakistan on Wednesday, April 17, 2013. Musharraf appeared in court to seek bail in Benazir Bhutto's assassination case. Pakistan's Supreme Court ordered Musharraf to respond to allegations that he committed treason while in power, and barred him from leaving the country only weeks after he returned.

Former leader detained at his farmhouse after appearing before judicial magistrate ahead of general election.
Pakistani police arrested former president Pervez Musharraf at his residence on the outskirts of Islamabad and presented him in court on his involvement in the decision to dismiss senior judges, including the chief justice of the Supreme Court, in 2007.
Television footage on Friday showed Musharraf, dressed in traditional clothes, being escorted by uniformed police officers to an Islamabad court.
"General Musharraf has been sent on a two-day judicial remand and he will stay at his farmhouse," said a spokesman for his All Pakistan Muslim League (APML) party.
A judge issued an arrest order on Thursday.
He is now under house arrest at his farmhouse on the outskirts of the capital Islamabad.
The district court judge instructed police to keep him in their custody for two days and then present him before an anti-terrorism court, said one of his lawyers.
Six years ago, Musharraf declared a state of emergency and suspended the constitution. He was concerned the judges would challenge his recent re-election as president, and cited the growing Taliban insurgency in the country as justification for the state of emergency.
Al Jazeera's Kamal Hyder, reporting from Islamabad, said Musharraf had given himself up, but explained that the latest arrest was "just the tip of the ice-berg".
"There are many cases against him," he said. "They are indeed milestone cases, but no militairy ruler of Paksitan has ever been convicted in a court of law. It will be interesting to see what happens next."
Bitter homecoming
Musharraf, who ruled Pakistan from 1999-2008, returned to the country last month from nearly four years of self-imposed exile in the hope of running in next month's general elections.
His bid to run for office has been rejected by election officials and he has instead found himself battling a host of legal challenges relating to his years in power.
"It [Musharraf's return] has cast a long shadow on the elections," said our correspondent.
Officials have declared Musharraf's home a jail, which is allowed under the country's law, and he will be held there under house arrest, a police officer said.
It is the first time that the judiciary has ordered the arrest of a former army chief of staff.
Pakistan's top court is already hearing a petition demanding that Musharraf face trial for treason for imposing emergency law in 2007, punishable by death or life in prison.
He is also accused of conspiracy to murder opposition leader Benazir Bhutto in 2007 and over the death of a rebel leader during a 2006 military operation.
He had been granted bail repeatedly since his homecoming on March 24.
Musharraf's supporters say the latest arrest order was nothing more than a settling of scores for his dismissal of the judges.
April 19 2013, 11:15